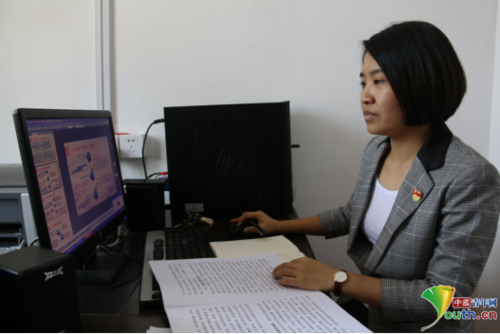 Huang Na [Youth.cn]
A village official from east China's Jiangxi Province is currently undertaking the mission to publicize the spirits of the 19th National Congress of the Communist Party of China (CPC) among locals.
Huang Na, secretary of the Party branch in Donghu Village near the city of Fuzhou, was elected as a delegate to the Party congress earlier this year.
Before she left for Beijing to attend the congress, which opened on October 18, other officials in her village expressed their own expectations.
"Please send a message to the congress about the positive changes that have taken place in Donghu over the past five years and bring back good news about promoting the development of villages, farmers and agriculture," they told her.
Attending Party Congress
On October 19, the delegation from Jiangxi met with media, and Huang received an opportunity to share her views.
"My speech was written the night before. I did not feel satisfied and still kept revising it after I reached the conference hall," she recalls.
As the youngest delegate from her province, Huang was eager to express her townsfolk's true feelings including their happiness of gaining a better life and their gratitude to CPC Central Committee, through the event.
"Villagers did not expect that their current life would almost catch up with those living in cities," said Huang in her introduction.
"Village roads have been hardened, streetlights have been set up, and a square has been built. Infrastructure construction has upgraded people's sense of gain.
"Grain yield has increased by 55 percent on the land, and the average annual personal disposable income has risen by 58 percent. Economic development has enabled villagers to live happier lives."
In the past, Donghu was well-known for its weak and lax management. Its officials lacked unity and showed little enthusiasm in their work, which led to low support from villagers and slow development in every aspect.
After Huang went to the village, she set her mind to change the situation.
In addition to working earnestly to set an example for local officials, she subdivided the duties of members of the local villagers committee and Party branch; enhanced evaluation and supervision systems; and, built a special work mechanism which helped officials solve the daily problems of villagers.
Seeing a capable leadership, villagers gradually built up confidence and worked together to help develop their hometown.
Taking its advantages of having agricultural machinery, officials established cooperatives, trained machinery drivers and received orders to boost people's incomes.
"People have been united, the environment has become better, and industry has become stronger," said Huang during the Party congress.
Implementing Congress Spirit
Huang added that she was filled with excitement after listening to General Secretary Xi Jinping's report at the Party congress, and she was filled with anticipation to share her positive response.
"The general secretary particularly stressed in his report to implement strategies invigorating villages," she remarked.
"He said Party branches at all levels must give high priority to solving problems related to villages, farmers and agriculture.
"I think that is the good news that my townsfolk wanted me to take back."
After returning from Beijing, Huang walked among the community and into the village activity center, explaining the beneficial policies unveiled at the congress.
"In the past five years, due to good policies implemented by the Party and the government, our village's infrastructure and living standards have improved," she reported.
"According to the work report delivered at the congress, the government will vigorously support economic and social development in rural areas. I think our lives will become better."
In addition to giving public speeches, Huang visited the homes of impoverished families, telling them the news that the government will further improve people's livelihood and strengthen the building of an all-round social security system to win the battle of poverty alleviation, which she learned about at the congress.
She also went to the local primary school to convey Xi's expectations for young people to students and teachers.
"I will regard studying, publicizing and implementing the spirit of the 19th CPC National Congress as a top political task in the current stage and in future, and introduce them to every villager," Huang concluded.
(Source: dxscg.com.cn/Translated and edited by Women of China)