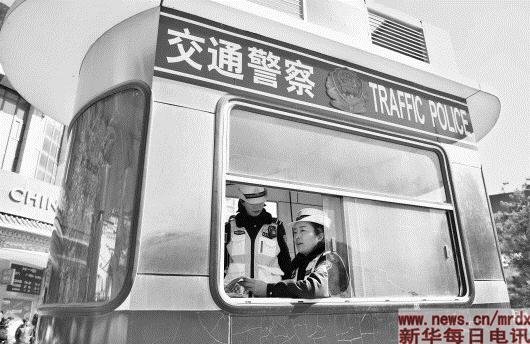 Qiangba Zhuoma (R) and her colleague on duty. [xinhua]
Qiangba Zhuoma, a traffic policewoman from the city of Lhasa, southwest China's Tibet Autonomous Region, recently attended the 19th National Congress of the Communist Party of China (CPC) in Beijing.
When she listened to the report delivered at the CPC congress, Qiangba said she was greatly inspired. "The grand blueprint for the future development of our motherland has been drawn and I feel lucky to be born in this great era."
While attending the congress in Beijing, Qiangba always put her father's delegate certificate for attending the regional CPC congress on the back of her own certificate. As an old Party member, her father volunteered to work where living conditions were the hardest in Tibet after graduating from college.
"Although my father has passed away, I have the responsibility to carry forward his spirit of dedication to serving the people."
After returning from Beijing, Qiangba immediately threw herself into her work without a day off. "As a delegate to the CPC congress, I have no reason to slack on my duties. I cannot wait to share what I have learned at the meeting with my colleagues."
Within a week after returning to her workplace, Qingba organized a symposium on studying the congress spirit and a lecture contest. Every traffic policewoman has delivered a lecture about their understanding of the report.
Silang Lacuo, Qiangba's colleague, said, "It is a lifelong honor for me to serve people at my traffic post." Qiangba commented that what Silang said has revealed every policewoman's aspiration.
Aside from this, Qiangba said what impressed her most in the report was that it put forward a people-centered development concept.
"The word 'people' is mentioned again and again in the report. As policewomen, we should learn to think from the perspective of ordinary residents in law enforcement so as to shorten the distance with the masses."
"I hope every policewoman can show zeal for studying the congress spirit to enhance their sense of responsibility," Qiangba added.
(Source: Xinhua/Translated and edited by Women of China)