82-year-old Granny Returns to Sky
Author:
Xu Xu
September 24, 2019
Miao Xiaohong, one of the second group of female pilots in the People's Republic of China, returns to the blue skies, after 31 years, to encourage young women to join China's aviation industry. [For Women of China]
Miao Xiaohong is one of the second group of female pilots in the People's Republic of China. In May, the 82-year-old woman returned to the blue skies, after 31 years, to encourage young women to join China's aviation industry.
On May 28, 2019, Miao Xiaohong, 82, controlled the Tecnam P2010 plane and took off from Beijing Pinggu Shifosi Airport. During the 40-minute flight, she couldn't help but sing her favorite song — I Love the Blue Sky of My Motherland.
After the plane landed safely and she deplaned, Miao said it was great to fly again, especially at such an old age. "It was a pity that I had to stop flying in my 50s. It was exciting and fresh to fly again after 31 years," said Miao.
"Different from past flights, on missions, today my only goal was to enjoy the flight. I was completely free, and I didn't feel any pressure. I flew … watched the blue sky and white clouds around the plane and enjoyed the beautiful landscape. What a pleasure!"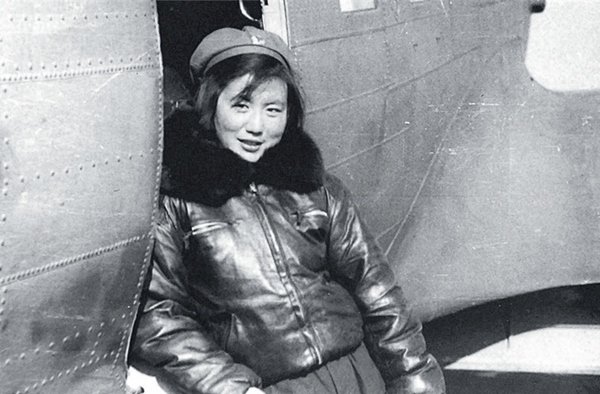 An old photo of Miao Xiaohong [For Women of China]
The Beginning
Miao was born into a poor family in Linqu County, in East China's Shandong Province, in April 1937. She was raised in her aunt's home, in Ji'nan, capital of Shandong Province. Miao's academic performance was always excellent.
China began training its first group of 14 female pilots in 1951. In 1956, Miao was named one of the second group of female pilots, after she completed the strict training and selection process.
"It was a day in April 1956 . I was studying in Ji'nan Provincial No. 3 Middle School. Several air force officers came to our school to recruit pilots. The whole campus was boiling, and the students signed up one after another," says Miao. Although her body was thin, she still signed up. "What an honor it would be for a woman to fly a plane and contribute to her country. I had to have a try," Miao recalls.
To her surprise, she was the only student in her school to be recruited by the air force. That year, only eight students were recruited from Shandong Province.
However, Miao's father did not understand — or support — her decision to become an air force pilot. "My academic performance was very good at that time, and my father wanted me to be an engineer or scientist," says Miao. Despite her father's opposition, Miao packed her backpack and left home to start her life as a pilot.
Practicing Flying
In June 1956, Miao was admitted to a flight - preparatory school, to receive military and sports training. The intensity and hardship of the training exceeded Miao's expectations. "It was a challenge for every woman trainee. After the training of the whole day, my legs felt heavy, and it was even difficult to move them to get to bed," says Miao . During this period, many students were dismissed from the program.
Half a year later, Miao was transferred to a flight school, and she began learning to fly. On April 1, 1958, Miao made the first flight of her life. However, a propeller was damaged as a result of a mistake Miao made when she attempted to land the plane. "I felt ashamed, and I didn't dare to get out of the plane at that moment," says Miao.
That accident left Miao feeling a lot of pressure. "One of China's first group of female pilots told me that I would never be a pilot if I dared not fly any more. My flight teacher also encouraged me to overcome the psychological burden," says Miao. Thanks to their help and guidance, Miao mustered the courage, and she practiced her flying skills, and finally conducted a solo flight.
She graduated from the flight school at the end of 1958. In the following years, she flew many important missions, including transportation and emergency rescues, and she experienced many dangerous situations.
In 1963, Miao undertook a mission to airdrop materials into flood-stricken areas in North China's Hebei Province. Poor visibility restricted her from locating the target areas, as the clouds were about 100 meters above the ground. But her excellent skills secured a successful mission.
Miao Xiaohong makes preparations before she returns to the sky. [For Women of China]
Returning to the Sky
"According to relevant regulations, the female pilots had to stop flying at the age of 50, and I stopped (flying) at the age of 51, in 1988. To tell the truth, I was unwilling to stop (flying)," says Miao. "I once read a news report about an American female pilot who was still participating in a flight-performance competition at the age of 80. It seems that flying has nothing to do with age."
In 1989, Miao retired and started her writing career. With the encouragement of her husband, He Xiaoming, Miao began to write her autobiography, A Daughter of the Sky.
To her surprise, the book won positive feedback and that gave her the idea to write another book, China's First Group of Female Pilots.
"This group of female pilots has undergone much hardships, and their spirit is worth inheriting," says Miao. While she was writing the book, Miao broke her right leg and was unable to move for a long time. He took her place and visited the first group of female pilots, who lived in different regions of the country. He collected various materials, and delivered those materials to his wife. The book was published in 2011.
The writing experience broadened Miao's vision. "Although I can't operate the plane, I can use a pen to record and spread the stories and spirit of female pilots," says Miao.
Three years ago, she and her husband began planning to write a book about the history of women's participation in the early development of aviation, in China and abroad.
As Miao researched materials for her books, she realized many aged pilots in other countries still flew, and she had decided she wanted to return to the sky.
Dream Comes True
During a party before the 2019 Spring Festival, Miao told a story of an elderly French man who began to learn to fly at the age of 80.
"Sister, you can fly too!" Liu Fengyun, one of China's fourth group of female pilots told Miao during the party.
What worried Miao the most was whether her physical condition would let her fly again. "I had broken both my legs and hurt my arm badly," she says.
Finally, she decided to complete the challenge. To prepare for the flight, in late May, Miao made a training plan. She walked 3,000 steps every day, and she moved her arms and legs to meet the requirements for a high-altitude flight.
She said she worried about the flight a lot because she was 82 years old, and because she had not piloted an aircraft for 31 years . But when she sat in the cockpit, on May 28, she was calm enough to finish the flight. Accompanied by a coach, Miao completed a 40-minute flight.
After she finished the flight, Miao said she was as happy as a child. "It's my dream to return to the sky," she says.
"We have female transport pilots, female helicopter pilots, female fighter pilots, and female astronauts. The path to the sky is getting wider and wider for women. I hope that more young women will join the aviation industry.
"I'm 82 years old and I can fly again. You, the young people, can fly better than I do. If the country needs me to fly, I would like to fly with you," says Miao.
Miao Xiaohong takes a group photo after she returns to the sky. [For Women of China]
(Women of China)
Please understand that womenofchina.cn,a non-profit, information-communication website, cannot reach every writer before using articles and images. For copyright issues, please contact us by emailing: website@womenofchina.cn. The articles published and opinions expressed on this website represent the opinions of writers and are not necessarily shared by womenofchina.cn.

Comments