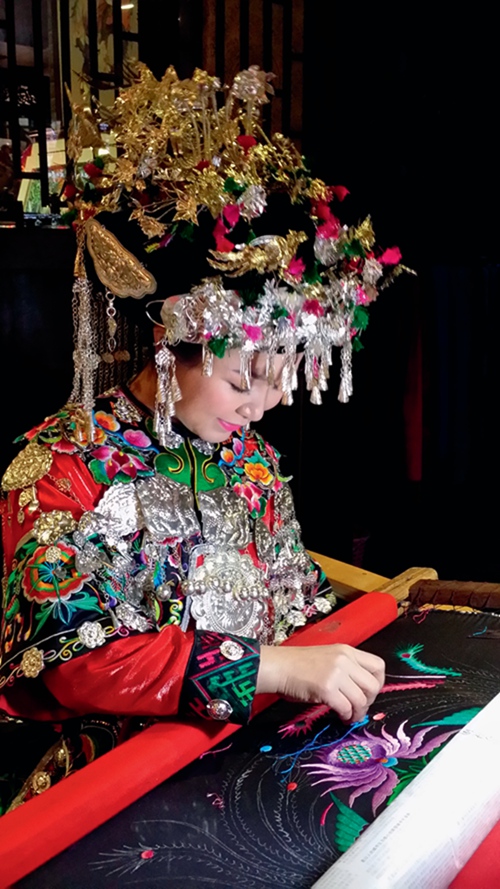 Chen Guotao, a Miao embroidery master [For Women of China]
Chen Guotao, a Miao embroidery master who was born into a Miao ethnic family in the mountains of Youyang Tujia and Miao Autonomous County, in Southwest China's Chongqing Municipality, used to have a high-paying job with a State-owned bank. But her passion for Miao embroidery made her quit the job in 2007. She returned to her hometown to study and promote the traditional folk art.
Embroidery is an essential part of the Miao culture. Miao embroidery was added to the list of China's intangible cultural heritage in 2006. Older generations of Miao women are generally good at embroidering.
"Every item of Miao embroidery is handmade, with various kinds of complicated skills," Chen says. "A square cloth, with a one-meter side length, will take at least one year to complete, so it is time-consuming and not easy to make money."
Chen learned how to make embroideries from her mother and grandmother when she was a child. To improve her professional knowledge and skills, she began studying Miao embroidery skills under several masters.
She also visited Miao villages in Hunan and Guizhou provinces to learn from local embroidery masters, and to encourage rural women embroiderers to continue making Miao embroideries. Several years passed. Chen mastered various embroidery skills, and she also created many fabulous embroideries.
In 2012 , she established Ziyue Miao Culture Company, in Youyang, to promote the development of Miao embroidery. She also opened an embroidery store in Taohuayuan Scenic Area, in the county. The exquisite embroidery products in the store have attracted many visitors and customers.
A year later, with the guidance of Youyang Women's Federation, Chen set up an embroidery training base, to promote Miao embroidery and help impoverished women escape poverty through embroidering.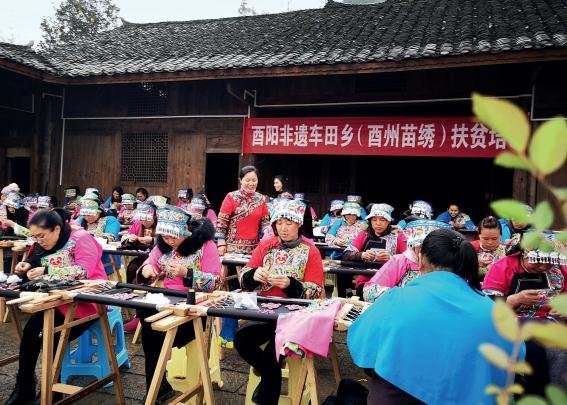 Chen sets up an embroidery training base, to promote Miao embroidery and help impoverished women escape poverty through embroidering. [Women of China]
To date, 25 training courses have been held, and more than 2,000 rural women and/or physically challenged people have received training on Miao embroidery.
Chen has also established production bases and poverty- alleviation workshops in impoverished villages, and they have recruited rural women to make embroideries there and/or guided the women in starting their own businesses.
Some women have become employees of Chen's company after they have received embroidery training.
"I attended the training course in 2005. I learned hard, and I practiced a lot. Now, I work at the company, and I earn about 5,000 yuan (US $746) per month," says Ran Jiao, who lives in Taohuayuan Community, in Youyang. Ran adds her dream is to inherit Miao embroidery and realize her value through promoting the folk art.
At present, most of the women embroiderers in Youyang are over age 40. Chen thinks it is necessary to cultivate young embroiderers to inherit and promote Miao embroidery. Thus, she has started a training class, at Youyang Special Education School, to teach students how to make embroideries.
In addition to embroidered clothes, Chen's company also produces and sells embroidered gifts, bags, ornaments and various other products. "We must make innovation to create Miao embroidery products that people are willing to buy and use in their daily lives. Only in this way can we maintain the vitality of the traditional folk art," Chen says.
Chen and her employees have taken their products to major cultural industry expos, in Beijing and Shenzhen, since 2012. Their embroideries have won nearly 30 domestic or international awards. In 2016, their products were chosen to be exhibited during an exhibition in Europe. In February 2018, Chen, as a cultural ambassador, attended a China-Germany cultural exchange in Germany.
"Now, we are no longer worried about our sales volume," Chen says. In 2016, the company's sales volume surpassed 6 million yuan (US $895,522). Compared with the beginning stage of her company, Chen is more confident about the future development of her company, and about the prospects of Miao embroideries.
Her company's products have been exhibited and sold both in China and other countries, including Australia and the United States. The company provides a good platform for promoting and inheriting Miao embroideries, and for helping impoverished people increase incomes.
"I hope more people in my hometown will improve their lives by making Miao embroideries, and that more people in the world will have a better understanding of Miao embroideries," she says.
(Women of China)