Be a Craftswoman with 'Great Power' in New Era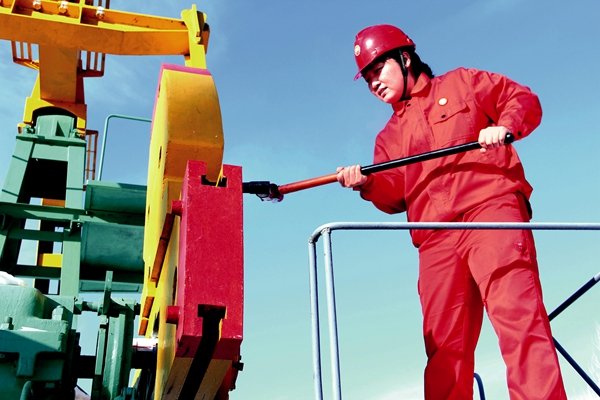 Liu Li, who works in the No. 2 Oil Extraction Plant of Daqing Oilfield, in Northeast China's Heilongjiang Province, is at work. [For Women of China]
Liu Li works in the No. 2 Oil Extraction Plant of Daqing Oilfield, in Northeast China's Heilongjiang Province. Liu has received many awards and honorable titles, including National Labor Medal and National Technical Expert. Liu, a technical expert with China National Petroleum Corporation, has a workshop under her name. Her story was highlighted on Craftsman of Great Powers, a program on CCTV (China Central Television) News. Liu says being a craftswoman in the new era requires certain attributes of "great power," including "hardworking attitude, resilience to cope with challenges, a desire to solve difficulties, and courage to go through hardships."
Following Father's Path
When people talk about the first generation of workers at Daqing Oilfield, they are likely to mention the so-called "iron man," Wang Jinxi, who is known as a role model at Daqing Oilfield. Liu Li's father, Liu Wensheng, is also one of Daqing Oilfield's first generation of workers.
Liu Wensheng, a hardworking and diligent man, has set a good example for Liu Li and her siblings. "My father has continued to read newspapers and write a diary, every day, even in his eighties. Influenced by him, I always urge myself to learn," Liu Li says.
Liu Li graduated from a vocational school in 1993. She was hired by Daqing Oilfield, and she has since continued studying new techniques and learning new skills. She joined the Communist Party of China in August 1998. "My father often asked me how my work was going. He pointed out my shortcomings, and he helped me find effective ways to improve my work," Liu Li recalls.
Liu Li receives the award of the National Labor Medal. [For Women of China]
Achievements
Daqing Oilfield established a workshop, under Liu Li's name, in 2011. The workshop initially had two members. Now, among the workshop's 531 members, there are 325 women, who make up 61.2 percent of the total members. In Liu's opinion, the first challenge women face, especially when they work on the oilfield's frontline, is getting used to the tough environment. "Our oilfield is located in Northeast China. The summer here is extremely hot, and the winter is extremely cold . What women do on the oilfield is similar to that of men. Like men, women also manage oil and water wells, and women also use big machines and iron tools to do production and maintenance work." Liu Li says. "Considering the differences in the physical conditions between men and women, women have to make more efforts to gain experience, become talented technicians and assume more significant posts."
On the program, Craftsman of Great Powers, broadcast on CCTV News in May this year, Liu Li showed a new type of packing box she had developed for sealing the wellhead of a pumping well.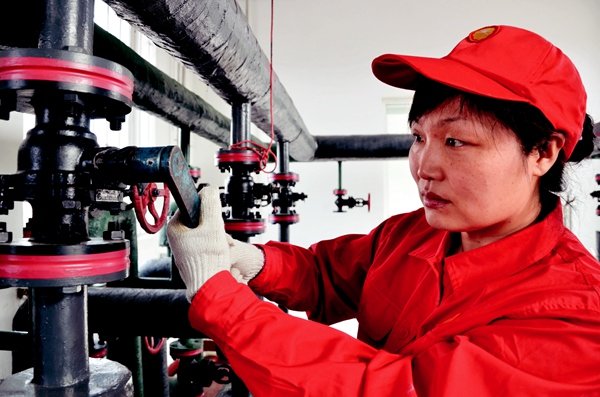 Liu Li is at work. [For Women of China]
"Rotate the outer shell of the packing box, its sealing ring will come out," Liu Li said, as she demonstrated how to use the item. "We must change the sealing ring inside a packing box immediately if we notice an oil leak at the wellhead. However, due to the limited space inside the packing box, it was very hard, in the past, to remove the sealing ring with a screwdriver. One day, when I was using lipstick, an idea suddenly entered my mind. Why not design a rotational structure, like that of a lipstick? The sealing ring can come out automatically when we rotate the packing box," Liu Li recalls. The innovative packing box, designed by Liu Li, has been used for the past several years at the pumping wells across Daqing Oilfield.
Leading a Team
Since her workshop was established in 2011, Liu Li has led her team in developing innovative techniques, which have resulted in the sustainable development of Daqing Oilfield. Using her workshop as a platform, Liu Li has promoted cooperation among workers from different departments. During the summer of 2017, for example, members of Liu Li's workshop discussed how to produce a pilot light to indicate a pumping well's working condition at nighttime. "We spent a lot of time trying to figure out what kind of power source the pilot light should use, and how to attach the light onto a pumping well," Liu Li says.
To solve such problems, Liu Li invited experienced electricians to join the discussions. They surfed the Internet and read relevant materials until they finally designed a pilot light that used a solar electrode plate as its power source, and an ultra-low- temperature battery to ensure the light can work in a low-temperature environment.
Liu Li's team has also developed two other types of lights, which match the structures of an electric pumping well and a screw pumping well. The three types of pilot lights, as a series, alert technicians to breakdowns of the pumping wells, especially at nighttime.
"Sharing innovative resources and experiences, and uniting work forces from different departments to overcome difficulties together," Liu Li says, referring to the mode her team has used to develop and promote sustainable development of oil extraction and production.
When asked to explain the importance of "being a craftswoman in a new era," Liu Li answers, "Being a 'craftswoman' means that I, as a technician, have received the highest approval and respect from our country and society. I must keep working hard and moving forward to make new contributions and help develop the oil industry of our motherland."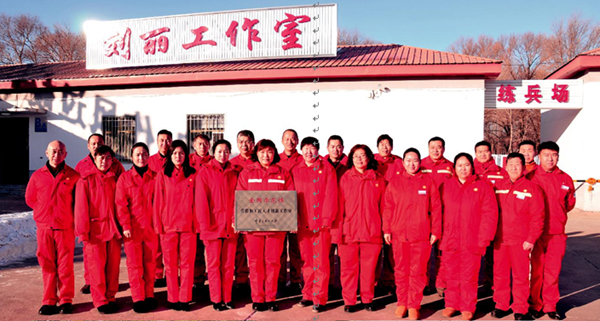 A group photo of Liu Li's team [For Women of China]
(Women of China)
Please understand that womenofchina.cn,a non-profit, information-communication website, cannot reach every writer before using articles and images. For copyright issues, please contact us by emailing: website@womenofchina.cn. The articles published and opinions expressed on this website represent the opinions of writers and are not necessarily shared by womenofchina.cn.

Comments