Devoted Teacher Assists Autistic Children Integrate into Society
Author:
Fan Wenjun
September 24, 2019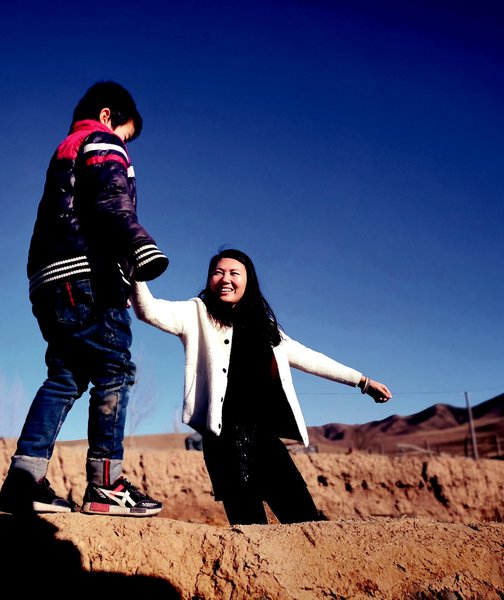 Wang Xinhui helps rehabilitate a boy with autism. [For Women of China]
Autism, also known as autistic disorder, is a form of a pervasive developmental disorder. Children with autism are often called "children of the stars" because they live in their own world, like the stars in the sky. But behind this "romantic term" is the cruel reality that children with autism generally have a substantial delay in communication and social interaction associated with development of "restricted, repetitive and stereotyped" behaviors, interests and activities.
Worrisome Answer
Fifteen years ago, Wang Xinhui met a child with autism for the first time. Since then, she has been working to rehabilitate children with autism, trying to help them, like their peers, attend normal kindergartens or primary schools, and to eventually integrate into society.
For her continuous efforts to help children with autism, Wang, director of Star Road Rehabilitation Center for Autistic Children in Chifeng, a city in northern China's Inner Mongolia Autonomous Region, was elected a deputy to the 13th National People's Congress (NPC) in 2018.
"Speaking of persistence, I would like to ask you a question. What is your greatest wish? I believe there will be many kinds of answers, but the most worrisome answer I have heard in all these years is, 'I hope to live one more day than my child,'" said Wang, on the morning of March 15. She made the comment during a group interview, in the "Deputies' Passage," during the Second Session of the 13th NPC.
Wang told reporters that a mother of a child with autism had initially made that comment. "She used to be desperate. She said if she died one day, she would take her child with her, because she didn't know who she could entrust the child to. The mother said that in a calm way, while I was in tears. At that moment, my life became linked to the children with autism," said Wang.
Yangyang
In 2004, Wang opened an education center, in Chifeng, which was mainly engaged in early childhood care and education. It was her original dream, as her major in college was preschool education. Her career proceeded smoothly until, one day, she met a very different child, Yangyang. The boy did not make either verbal or eye contact with anyone. He didn't miss his mother, and he always played alone in a corner. If the teacher pulled him to his seat, he would return to his original place.
"At that time, I knew little about autism. After communicating with Yangyang's parents, we decided to take him to Beijing for treatment. We were sorry to learn that Yangyang was diagnosed with autism, which couldn't be cured. Looking at the innocent boy and his desperate parents, I just wanted to do something for them," recalls Wang. At first, she had no idea how to help them. She taught Yangyang, in her own way, and a month later there was no discernible effect. She realized further study was needed to find the right way to help the boy.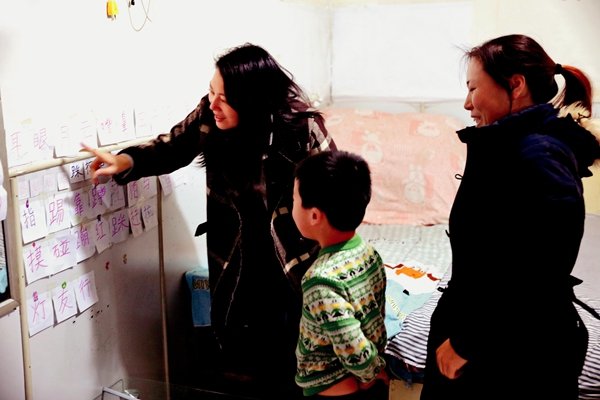 Wang Xinhui helps rehabilitate children with autism.[For Women of China]
After that, Wang took several colleagues to Beijing, Shanghai, Guangdong and other places to learn the skills and techniques needed to rehabilitate autistic children. They visited almost all of the autism-rehabilitation institutions that could be found online. Wang often went to the National Library (in Beijing) to check the materials on autism, and she went to Beijing Book Building to buy the latest books on autism.
Wang basically mastered the teaching methods and skills for rehabilitating autistic children within a year. With Wang's help, Yangyang's situation has improved significantly. It was a day in the summer, and Wang was giving Yangyang a one-on-one training lesson. When she went to get a card, she heard the word "mama." Wang couldn't believe it. She looked back at Yangyang, and she asked, "what did you say?" The boy did not look at her, but said, again, "mama."
"I hugged him, but I couldn't help but cry. It was the first time the 7-year-old boy called for his 'mama'," says Wang.
Yangyang's improvement helped Wang realize that children with autism didn't only live in their own world, but that the disease deprived them of the ability to communicate the same way as normal children.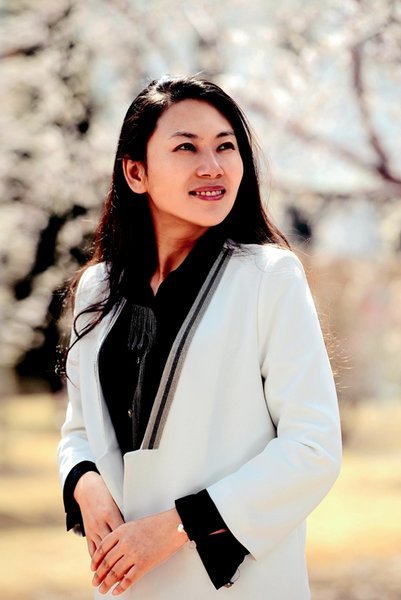 Wang Xinhui [For Women of China]
Spiritual Multimillionaire
Later, Wang's education center received several autistic children, and their situations improved after treatments. Years of hard work had paid off, but Wang faced a dilemma. Due to limitations of venues and teachers, she had to decide whether to continue educating normal children or to operate a special-education institution.
"I once thought about giving up . But after the parents of autistic children learned the news, they knelt down and said to me, 'If you don't do it, our children will have nowhere to go.' At that time, I figured it out. No matter how difficult it was, someone had to do it," Wang says.
Since then, Wang's education center has been a special-educational center for autistic children. In 2009, she renamed the center the Star Road Rehabilitation Center for Autistic Children.
The center offers training in imitation and language skills. It also provides music and art therapies. Teaching programs are customized for the children, as no single program will suit all of the children.
"In recent years, the central and local governments have introduced a number of targeted programs to help the disabled. And those programs have covered nearly 80 percent of families with autistic children (to age 6)," says Wang.
By the end of 2018, Wang's rehabilitation center had provided rehabilitation training to more than 700 autistic children. The center has 36 teachers and more than 300 volunteers. About 15 percent of the children went to study in normal primary schools after they finish treatment in the center.
One of Wang's classmates once said to her, "If you start a business, with your intelligence, you can become a multimillionaire. Why did you make yourself a poor person while working so hard?" Wang retorted, "My wealth is not measured by money. I am a spiritual multimillionaire!"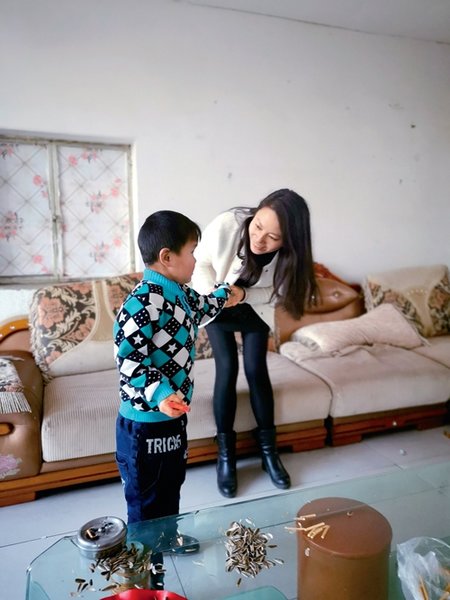 Wang Xinhui and a boy with autism [For Women of China]
Calling for Social Care
As a special-education teacher, Wang feels a sense of happiness and accomplishment when she sees an autistic child improve, speak, and express his/her needs, and when she sees the children's parents smile.
Families with autistic children bear both economic and spiritual pressures. Such parents have to spend time and money to take care of their children. Some of the parents feel desperate. To this end, Wang and her colleagues have done a lot to help the parents. She says, "We provide psychological assistance to parents. We want to give them hope and courage for the future."
Since she was elected a deputy to the National People's Congress, Wang has thought about how to get autistic children into ordinary schools, and how to call on society to give autistic children greater understanding and care. "The rights of autistic children who are able to enter ordinary primary schools should be guaranteed by law. For those who do not have the ability to enter ordinary primary schools, special-education schools should be built for them, to ensure they can receive treatment and education at the same time," Wang says.
"The progress of a country is reflected in the guarantee of the life of the disabled … "I want to make use of my professional experiences, find more effective ways and means to help children with autism, and encourage the government to make more relevant policies. I am still young, and I have a long time to do more for this group," says Wang.
Wang Xinhui helps boys with autism paint a picture. [For Women of China]
(Women of China)
Please understand that womenofchina.cn,a non-profit, information-communication website, cannot reach every writer before using articles and images. For copyright issues, please contact us by emailing: website@womenofchina.cn. The articles published and opinions expressed on this website represent the opinions of writers and are not necessarily shared by womenofchina.cn.

Comments