'Lucky' Woman Selling Snacks, Fulfilling Dream
Ma Juan spoke during an activity to commend women models.[Women of China]
Ma Juan grew up in Dongxiang County, one of the most impoverished regions in Northwest China's Gansu Province. Ma is grateful that she is such a "lucky person," because she has been able to enjoy her life in the new era. Given the support of her parents, she was able to attend college and earn a higher education. Given the support of both the local government and the women's federation of Dongxiang County, she has been able to set up her own company, earn a good living and help many women in her hometown escape poverty. Ma's hard work has won her the honorable title of this year's National Women Achievement Makers Pacesetter.
Snacks from Deep Mountains
Dongxiang is an ethnic minority group that mainly inhabits Gansu Province. Dongxiang County, inhabited by people of the Dongxiang minority group, is located in a mountainous region where transportation conditions are relatively poor. Ma's hometown, Bulenggou, is a remote village hidden deep in the mountains of Dongxiang County.
In February 2013, General Secretary Xi Jinping visited Dongxiang County and encouraged the residents to work hard and change their living environment.
Ma said she has been lucky to witness the great changes that have been taking place in her hometown. Encouraged by her parents, Ma became the first person in her family to attend college, and to complete both an undergraduate degree and postgraduate degree. After she graduated from college, Ma decided to start a business in her hometown. She wanted to produce and sell huaguoguo (a type of fried dough-based food, which is Dongxiang minority group's traditional snack) to earn a living.
"In the past, people in my hometown cooked huaguoguo mainly for family use . There were a few workshops in the village. But they only sold the snacks to locals villagers. I opened a store online, and I expanded my market to places all across China. I was passionate about running my business," Ma recalled.
As the number of orders increased, Ma realized she would have a difficult time meeting customers' needs if she relied solely on her family to make the snacks. In Dongxiang County, almost every woman knows how to make huaguoguo. She decided to encourage local women to make the snacks, so they could earn a better living. She asked women in her hometown to help produce huaguoguo.
"I registered a company, and I went to Yiwu, in East China's Zhejiang Province, to learn professional packaging techniques. I designed packages, which highlighted elements of our ethnic art and culture, to make our products look more appealing to customers," Ma says.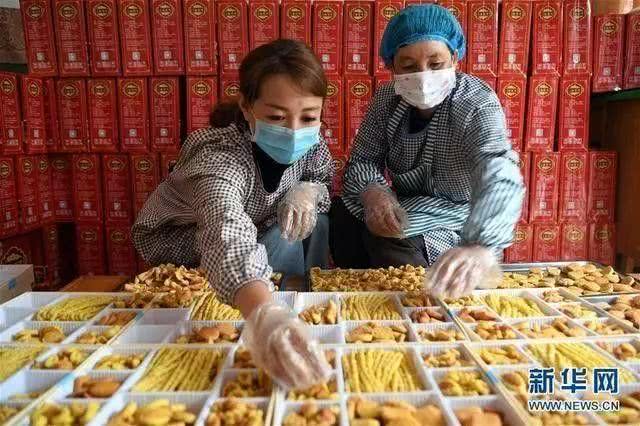 Ma Juan is at work.[Xinhua]
Workshops to Create Wealth
Following the success of her business, Ma set another goal: To help women in her village escape poverty. Given the support of the local government and women's federation, two "poverty- alleviation workshops for women" were established in Dongxiang County. Ma organized training sessions to help women from impoverished families learn skills and become technicians. She demonstrated standard processing techniques, and she taught the women how to make good-quality huaguoguo.
The word "bulenggou" means "cliffside" in the dialect of the Dongxiang people. "Bulenggou is a poor village hidden deep in the mountains. Today, with my help, more than 50 households in the village have at least one woman working in the 'poverty-alleviation workshops.' The women earn decent incomes. They no longer ask their husbands for money. The women have become more confident, and their status within their families has improved a lot," Ma says.
Many Dongxiang women have said the "poverty-alleviation workshops" have helped them balance the need to earn money and to look after their families. The women look excited when they receive their salaries every month. Ma feels proud when she witnesses how happy the women employees are.
By the end of 2018, Ma employed more than 160 women from impoverished families in Bulenggou. "I believe, as long as Dongxiang women are willing to improve their abilities, and as long as they do their best to fulfill their values, they will make a great change of their lives," Ma says.
In addition to helping local women find employment and shake off poverty, Ma helps other people in need to fulfill her social responsibility. For example, in the autumn of 2018, her hometown was flooded. Ma immediately sent her company-produced huaguoguo to people in the disaster-stricken area. This year, she has paid part of the education fees for 10 poor college students. She says she will follow the Party's leadership and continue making efforts to fulfill her dreams, and to help more women in her hometown live better lives.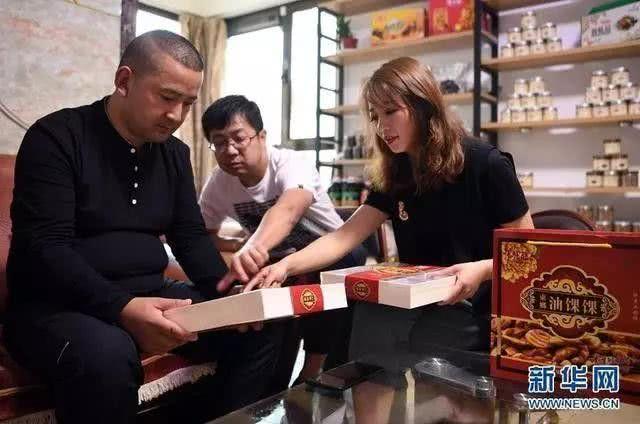 Ma Juan introduces her products to other people.[Xinhua]
(Women of China)
Please understand that womenofchina.cn,a non-profit, information-communication website, cannot reach every writer before using articles and images. For copyright issues, please contact us by emailing: website@womenofchina.cn. The articles published and opinions expressed on this website represent the opinions of writers and are not necessarily shared by womenofchina.cn.

Comments