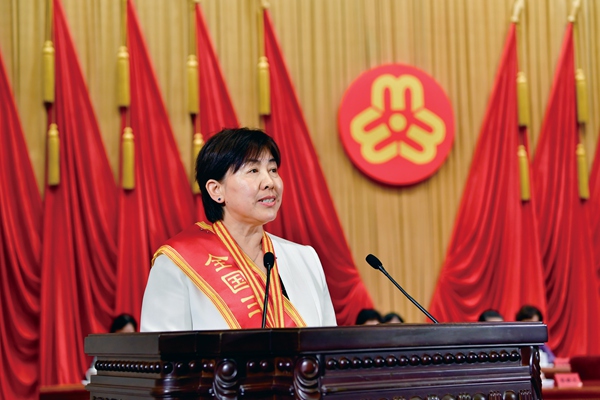 Wang Kerong, head nurse at Red Ribbon Home of Beijing Ditan Hospital [For Women of China]
Wang Kerong, head nurse at Red Ribbon Home of Beijing Ditan Hospital, is a recipient of this year's National March 8th Red-banner Pacesetter Award. Wang has been a nurse for 34 years, and for most of those years she has cared for patients who have suffered from infectious diseases. She has helped care for more than 50,000 patients who have suffered from life-threatening diseases, including severe acute respiratory syndrome (SARS) and acquired immune deficiency syndrome (HIV/AIDS). She has used her personal mobile phone as a "hotline" to help AIDS patients. She is kind to her patients, and she treats them like they are family members.
Getting Close to AIDS Patients
Wang began working at Beijing Ditan Hospital in 1984. In 1997, the ward in which she worked began receiving patients who suffered from HIV/AIDS. At that time, the general public in China did not know much about the disease. People generally felt threatened whenever they heard about someone who suffered from the disease. Wang was nervous as well. During the early years, she put on her nurse's cap, mask and isolation suit every time she walked into an AIDS patient's room. Today, she no longer feels nervous when she is with her patients. She treats them as if they were members of her family.
AIDS patients not only suffer from physical pain, they also endure mental pressure that results from discrimination by and the fear of the public. Wang and her colleagues organize picnics, short trips and other gatherings to help the patients relax and communicate with each other.
Wang recalls a meal that she had with some of her patients. "A patient, surnamed Li, looked at the dishes in his lunch box and told me he did not eat meat. I picked a piece of meat from his lunch box and put it in my mouth. I did not hesitate at all when I ate the meat. Li was shocked. He said even his family members could not do that. Why did I eat the meat? I wanted to tell the others that HIV/AIDS cannot infect one through alimentary canal." Wang says people's fear of HIV/AIDS is often the result of their misunderstanding of the disease.
Home-Like Warmth
Wang has the phone numbers of more than 1,000 AIDS patients in her contact list. She never shuts off her mobile phone, and she makes sure she always has her mobile phone with her. No matter how busy she is, Wang spends time, every evening, chatting with her patients on the phone. She tells her patients to call her whenever they need help. She knows clearly that the loving care she gives her patients may help save their lives.
One night, at the beginning of last year, Wang received a call from a patient in Xi'an, capital of Northwest China's Shaanxi Province. "The patient was about to commit suicide. He called me, and he said he was grateful for the help he had received from me and my colleagues. But he said farewell to me, and he said he wanted to leave this world," Wang recalled. She immediately contacted the police in Xi'an. The patient was sent to hospital, and he was saved.
Wang tries her best to make her patients feel home- like warmth. "Once, a patient suffered an epileptic fit, and he bit his tongue. My hand was also bitten when I tried to put a bite block in his mouth. Although I was wearing two layers of gloves, my gloves were broken. Luckily, my hand did not hurt. I washed and cleaned my hands, and then I continued to help save the patient," Wang said. The patient, who had been moved by Wang's deed, later joined the volunteers' group of the Red Ribbon Home.
Innovative Caring Mode
In 2002, Wang spent a month in the United Kingdom, while she was attending a program at a hospital in London. She visited the Florence Nightingale Museum, twice, to learn about and understand the life and work of the world's most famous nurse, who is regarded as the founder of modern nursing. After Wang returned to China, she made good use of the knowledge and skills she had learned overseas, and she developed an innovative nursing care mode for AIDS patients. The mode combines physical check-ups with psychological support and community care. Under this mode, nurses not only help treat AIDS patients, they also provide mental-care-related counseling, and they teach and train volunteers to help AIDS patients live better lives in both their communities and society.
During the past 14 years, Wang has visited 30 schools, residential communities and construction sites to promote knowledge related to HIV/AIDS, and to call for the public's care for AIDS patients. The Red Ribbon Home has more than 20,000 volunteers. Wang and her colleagues have trained 20 AIDS patients' "tutors," who do various things to accompany and help the patients. The tutors help take care of patients in hospital, answer their calls, provide counseling services, deliver nutritious soup to patients' rooms, teach patients how to take medicine properly, and solve their psychological problems.
Wang says she is an ordinary nurse of China's four- million-plus nurses nationwide, but adds she believes she can make outstanding achievements in her ordinary post.
(Women of China)