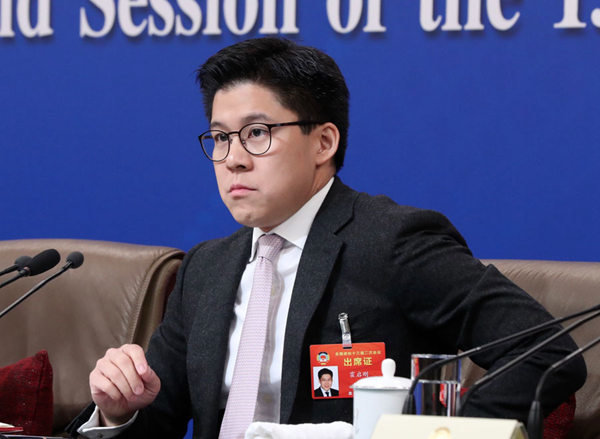 Kenneth Fok Kai-kong, a member of the 13th National Committee of the Chinese People's Political Consultative Conference (CPPCC), attends a news conference on political advisors' performance of duties in the new era for the second session of the 13th CPPCC National Committee in Beijing, capital of China, March 10, 2019. [Photo by Zhu Xingxin/chinadaily.com.cn]
Increased efforts will be made to further engage young people in Hong Kong to join the Guangdong-Hong Kong-Macao Greater Bay Area development, a political adviser said Sunday.
It is hoped the development will allow the region's young explore a growing number of opportunities.
Kenneth Fok Kai-kong, a Hong Kong member of the National Committee of the Chinese People's Political Consultative Conference, said that young people in Hong Kong have warmed to the central government's Greater Bay Area development plan, but many only have vague ideas of what the Greater Bay Area means to them.
It is important to help these young people see for themselves the great potential and key roles they can play in realizing the vision central government has set out for the Greater Bay Area, so they fulfill their personal development aspirations, said Fok.
Fok referred to a series of concrete policy measures, rolled out under the central government's support, making it more convenient for people in Hong Kong and Macao to work, live and study in the Greater Bay Area.
While young people benefit from, these policies, more needs to be done to communicate how, Fok said.
He said that the Greater Bay Area is a region where 11 member cities will be closely integrated and form a one-hour living circle, and that the region will be a home for Hong Kong's young to pursue futures.
For the young people to see that, it takes time and continuous engagement to change their perception, Fok said.
Speaking at a CPPCC National Committee news conference in Beijing with four other fellow members, Fok reviewed youth engagement work he has carried out as a political adviser since 2018.
He suggested new approaches be adopted to organize programs reflecting what the young care about and are interested in, and addresses their concerns and uncertainties about the Greater Bay Area.
Most youth-exchange programs in Hong Kong in the past focused more on sending young people to the Chinese mainland's first-tier cities, like Guangzhou and Shenzhen of Guangdong province, said Fok.
In the future we should bring our young people to visit less-developed cities like Huizhou and Zhaoqing. Then the young people could get a full picture of the Greater Bay Area, as well as a better understanding of how the 11 cities can develop together to become a world-class bay area, he said.
(Source: China Daily)