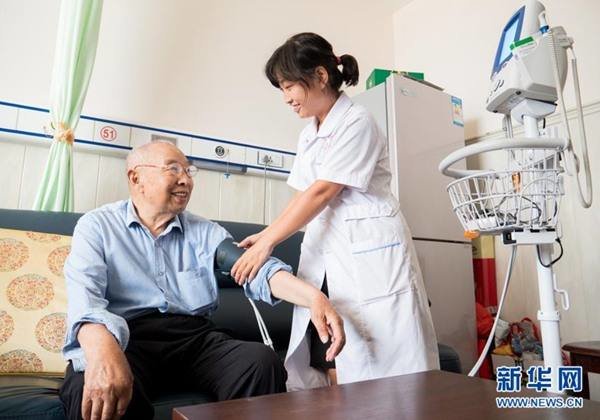 An elderly man at an elderly care center. [Photo/Xinhua]
China will take significant steps to develop the elderly care sector, especially community services, in 2019 as the number of people aged 60 and above has reached 250 million, according to the 2019 Government Work Report.
The country will provide support to institutions offering services in communities, like day care, rehabilitation, assisted meals and assisted mobility, by using measures such as tax reductions, fee cuts and exemptions, funding support, and reduced charges for water, electricity, gas and heating, the report said.
New residential areas should include facilities for integrating elderly care services, and the government will reform and refine policies for integrating medical and elderly care services, and extend trials for long-term care insurance, it said.
The government will also move faster to develop various types of infant and childcare services in response to demands created by the full implementation of the second-child policy, the report said, noting that infant and childcare services are important to millions of families.
The government will encourage the private sector to run childcare and early childhood education institutions and provide better protection for the safety of the children, it said, adding that social protection for children in difficult situations will be improved.
The government will build a robust multilevel aged-care social protection system and continue to increase the basic retirement pension, according to the report.
The country has established a system for the central government to allocate nationwide enterprise employee basic aged-care insurance funds, raised retiree basic pensions and increased the minimum basic aged-care pension benefits for rural and non-working urban residents from 70 to 88 yuan ($10.4 to $13) per person per month, it said.
(Source: China Daily)