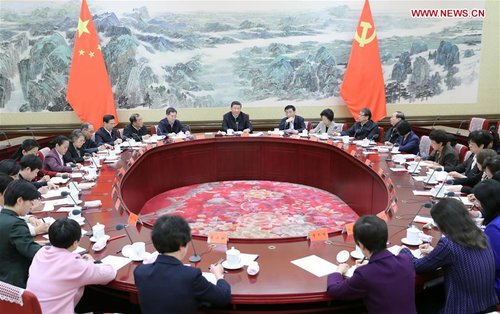 Chinese President Xi Jinping, also general secretary of the Communist Party of China Central Committee and chairman of the Central Military Commission, meets the new leadership of the All-China Women's Federation in Beijing on November 2. [Xinhua/Ju Peng]
Women's federations at all levels recently actively studied the important speech given by President Xi Jinping when he met the new leadership of the All-China Women's Federation (ACWF). The China Women's News recently published a series of articles about how can women's federations well study and implement the spirit of the speech.
In his speech, Xi explained that people should adhere to the basic national policy of gender equality and protect women and children's legal rights and interests.
Since the 18th National Congress of the Communist Party of China (CPC), held in 2012, the CPC Central Committee with Xi Jinping at its core has paid closer attention to gender equality and the overall development of women.
Women's federations at all levels thus have contributed their efforts to improving relevant legal systems and policies about women's rights protection to endow women with equal rights to exercise their democratic rights in accordance with the law; to participate in social and economic development; and, to enjoy the achievements of reform and development.
For example, federations have promoted the implementation of the anti-domestic violence law; helped establish a law and policy gender equality assessment mechanism; and, innovated their work to provide women with equal employment opportunities.
Over a long period, gender equality and respect for women have been better recognized but discrimination against women still exists.
President Xi called for measures from the state level that would address problems in this regard, ensure resolute crackdowns on crimes that seriously violate women's rights and interests, and refute wrong opinions about women in a timely manner.
He also called on women's federations to create a better environment for women's well-rounded development in these aspects.
As a link between the Party and women from the general population, women's federations should fulfill their major missions to represent and protect women's rights and interests, and promote gender equality and the well-rounded development of women.
Federations should rally women from all sectors across the country to follow the Party; improve relevant legal systems on rights protection; care for women and children in need; and, provide timely services for them.
Federations should understand the important remarks of President Xi and translate them into specific actions and further strengthen women's sense of fulfillment, happiness and security.
Women are expected to make significant achievements in the new era to achieve a more equal development environment.
(Source: China Women's News/Translated and edited by Women of China)