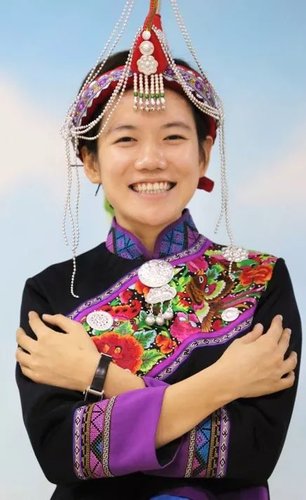 Lan Tianhong [people.cn]
An ethnic minority delegate of the 12th National Women's Congress of China has recently received praise for her strong commitment to promoting local culture, encouraging employment and helping shake off poverty among ethnic minority groups.
Lan Tianhong is from the She ethnicity in east China's Jiangxi. She attended the Congress as the youngest and only ethnic minority delegate from her province.
There, she was received by Shen Yueyue, president of the All-China Women's Federation, who expressed her concern for the living conditions of She women and praised Lan for helping them start businesses and find jobs.
According to Lan, She people have their own ethnic songs, martial arts, written script and languages.
In order to stimulate employment, Lan formulated local brands, expanded sales channels of agricultural products and promoted characteristic features and products.
In addition, she actively promoted the local culture through the Internet.
Tianshi National Technology Enterprise Incubator, founded by Lan, has helped over 3,000 people find jobs and shake off poverty. Now there are 15 female tech companies based in this incubator.
Lan also founded another company, Zhongke Dacheng Innovation Development Investment Management Co., in Fuzhou, Jiangxi, which has invested over 300 million yuan into startups run by female entrepreneurs.
This has reduced these groups' costs and increased their success rate. The company was later named as an innovation and entrepreneurship base of Jiangxi Women's Federation.
Speaking of her future, Lan said she will continue to devote herself to women's causes and use her own experiences to inspire more young women to start businesses and find jobs.
(Source: people.cn/Translated and edited by Women of China)