Grassroots Party Secretary Organizes Volunteer Team, Realizes Dream of Serving People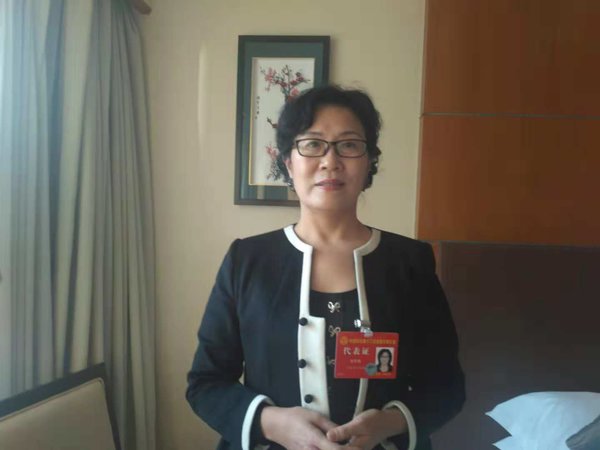 Zhang Dongxiang poses for a photo before the 12th National Women's Congress opened. [Women of China/Xie Lin]
A caring official from the city of Jiaozuo, central China's Henan province, has received praise in recent years for setting up a community center and volunteer group that help elderly members of the community.
Zhang Dongxiang is the Party branch secretary of a center for the elderly in Jiaozuo. She recently attended the 12th National Women's Congress of China as a grassroots representative.
When she was in her 30s, Zhang's father became ill, so she gave up her career to help take care of her sick father as well as her mother, who was paralyzed.
Several years later, her mother passed away. So Zhang came up with the idea to set up a community college for the elderly.
She hoped to help the elderly take better care of themselves and make contributions toward society while their children would be less obligated to sacrifice their jobs to look after them.
Zhang's father, who is a senior member of the Communist Party of China (CPC), intended to provide financial support for her. His spirit of dedication always inspired her to move ahead.
In 2016, Jialeyuan College for the Aged was established and on this basis, Zhang set up the Good Mum Workstation. A volunteer group whose members' average age was 61 was responsible for organizing activities in the workstation.
Nearly 70 of the 360 volunteers were Party members and 99 percent were women.
Thus, with the guidance of the street-level Party branch and Jiaozuo Women's Federation, Party branch and women's committee of the workstation was established.
The workstation has carried out a series of activities. For example, the volunteer group set up a room for old people with sight problems to tune to radio broadcast and learn about the spirit of the 19th National Congress of the CPC, among others.
A group composed of senior Party members was established, a female chorus group was founded, and seven volunteer communication teams consisting of volunteers were set up. As part of their efforts, they often went into local communities, enterprises and schools to carry out educational and recreational activities and performances. In addition, a conciliation workstation was also established to resolve conflicts between families and their neighbors.
"Those activities have received a positive response from the local residents. And the Good Mum workstation is a stage on which I am able to achieve my dreams," Zhang said.
"Being a delegate of the 12th National Women's Congress of China will be a new beginning for my career. I shall continue to lead women volunteers towards making more contributions to society and dedicating ourselves to the new era," she added.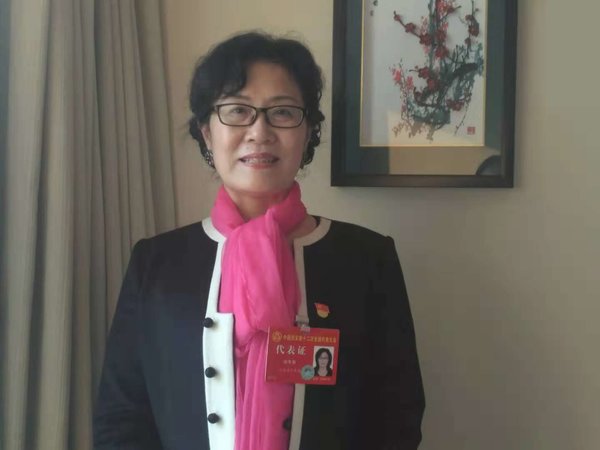 Zhang Dongxiang poses for a photo before the 12th National Women's Congress opened. [Women of China/Xie Lin]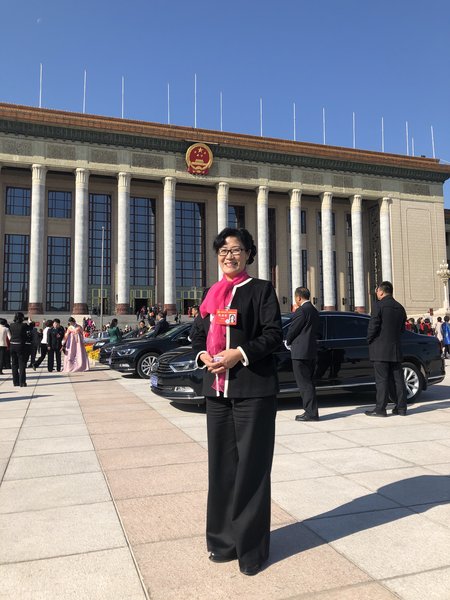 Zhang Dongxiang poses for a photo at the Great Hall of the People. [Women of China/Xie Lin]