Delegates to 12th NWC Study Address of CPC Central Committee
Delegates from Heilongjiang Province study the speech. [Xinhua]
Delegates actively study the address of the Communist Party of China (CPC) Central Committee at the opening of the 12th National Women's Congress of China convened at the Great Hall of the People on October 30.
President Xi Jinping, also general secretary of the CPC Central Committee and chairman of the Central Military Commission, attended the opening of the congress.
The meeting was also attended by other leaders of the CPC and the state including Li Keqiang, Li Zhanshu, Wang Yang, Wang Huning and Han Zheng, all of whom are members of the Standing Committee of the Political Bureau of the CPC Central Committee.
Zhao Leji, also a member of the Standing Committee of the Political Bureau of the CPC Central Committee, delivered a speech on behalf of the CPC Central Committee.
In the afternoon following, delegates in attendance at this major event engaged in the study of the speech.
Delegates all believe that the speech recognizes the remarkable achievements made in women's causes and the work of women's federations since the 11th NWC under the leadership of the CPC Central Committee.
The task proposed at the congress is to strive to make new achievements in women's undertakings under the guidance of Xi Jinping Thought on Socialism with Chinese Characteristics for a New Era. This fully reflects the high attention paid to women's undertakings and the work of women's federations by CPC Central Committee with Comrade Xi Jinping at the core.
As representatives for the millions upon millions of women in China, the delegates aspire to strengthen their sense of responsibility and mission, make greater achievements and contribute to the development of women's undertakings.
Their study focused on three parts.
Contribute to the New Era
Yang Fang, a key skill pacesetter from China North Industries Group Corporation , said she would continue to improve her technical skills and to play a leading role in promoting the spirit of the times centered around reform and innovation.
Tan Lixia, chief financial officer and executive vice president of Haier, said she was excited by the speech which encouraged people to bravely fight for their dreams. She expects to help more women to gain happiness by creating work opportunities for them.
Dong Ning, president of Shenzhen Women Entrepreneurs' Association, said every individual should help realize the Chinese Dream of national rejuvenation. Centering on the construction of the Guangdong-Hong Kong-Macao Greater Bay Area, she aspired to gather the wisdom of talents from different walks of life.
Peng Yan is deputy executive director in charge of the oceanic intelligent unmanned system project at Shanghai University. "My team has 10 women. We often say we have become more attractive because of our efforts invested in ocean-related work," said Peng, adding that she and her teammates would contribute to building China into a strong maritime country.
Publicize Civilization, Morality
"It is hoped that women can publicize civilization and morality by voluntarily practicing public ethical standards, work ethics, family virtues and personal integrity and cultivating fine qualities," according to the speech.
Gong Xiaoyan, president of Shaanxi Women's Federation, shared her opinions on this topic.
"To have core socialist values influence family civilization imperceptibly, we will continue organizing activities such as Looking for the Most Beautiful Families in Shaanxi. Such activities, I think, must be distinctive, center on family with the participation of women and gain the support of the Party and government departments," said Gong.
Meng Man is a professor from the School of History and Culture at Beijing-based Minzu University of China. "Women have played an important role in the family. In modern society, they continue to play this role in a more unique way while engaging in work. To strike a balance between work and family is a distinctive contribution made by Chinese women to the new era," according to Meng.
Liu Daolu, president of Panzhihua Women's Federation in southwest China's Sichuan Province, gave her remarks on the speech.
"As members of women's federation at grassroots level, my colleagues and I will motivate women to carry forward civilization and promote the building of harmonious families."
Lan Tianhong is a young entrepreneur. "We, women in this new era, should have both pioneering spirit and fine qualities. I desire to lead more women to demonstrate our new image;, publicize civilization with our practical deeds; and, practice core socialist values," said Lan.
Deepen Reform of Women's Federations
As mentioned in the speech that women's federations are expected to unite women for the great undertakings of the Party and contribute to women's causes, women's federations at all level are keenly aware of the important responsibility that they shoulder.
Luo Yuying is president of the women's federation in Jinshun Village, Nanchang City in east China's Jiangxi Province.
"I am glad that the reform of women's federations cement women's work at grassroots level. More importantly, a series of activities launched for women, such as poverty alleviation and rural vitalization campaigns, are popular with them," said Luo, adding that she and her colleagues would work harder to live up to the expectation of the CPC Central Committee and General Secretary Xi Jinping.
"Dongguan will continue to make new grounds in family education by strengthening the role of scientific instruction and team building, and by calling on more social forces to join in this cause," said Lu Ying, president of Dongguan Women's Federation, south China's Guangdong Province.
Regarding how to further improve the work of women's federations at grassroots level, Chen Zhu, president of the women's federation of Beitong Town, Pubei County, south China's Guangxi Zhuang Autonomous Region, made the following remark.
"Great efforts should be made to enhance the education level and vocational skills of women at grassroots level, create an environment for gender equality and strengthen grassroots officials' work ability."
Chen said she is determined to better unite women under the leadership of the CPC.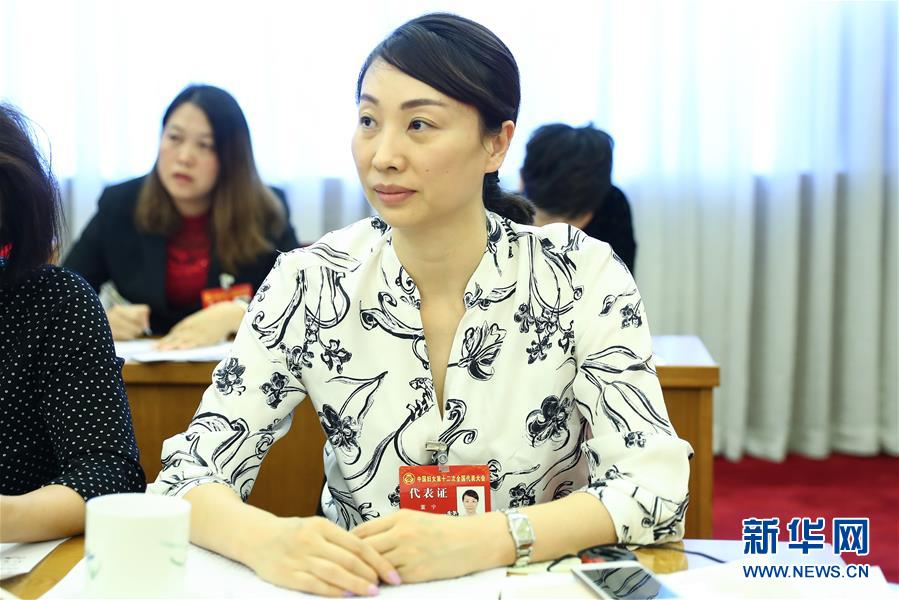 Dong Ning studies the speech together with other delegates from Guangdong Province. [Xinhua]
Zhang Lili, a delegate from Heilongjiang Province, expresses her ideas. [Xinhua]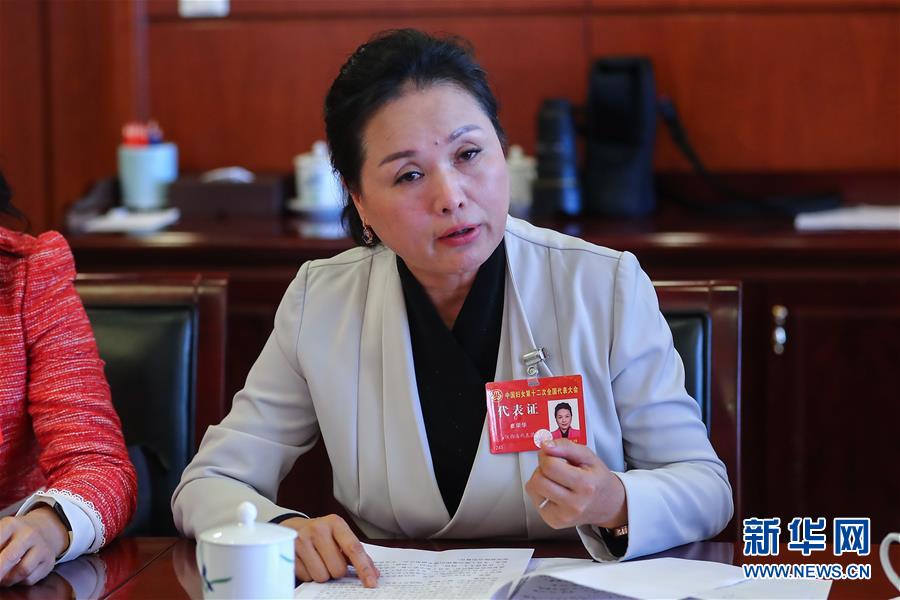 Cui Ronghua, a delegate from Shaanxi Province, expresses her ideas. [Xinhua]
(Source: Xinhua/Translated and edited by Women of China)