Upstanding Entrepreneur Dedicates Her Life to Developing Career, Helping Disadvantaged Residents
Jia Xiufang, Chairwoman of Boneng Group, Harbin, northeast China's Heilongjiang Province [Heilongjiang Women's Federation]
An entrepreneur who has started her own auto sales company in Harbin, a city in northeast China's Heilongjiang Province, has been committing herself to helping disadvantaged residents (including disabled and/or impoverished women and children, elderly residents who live alone and "left-behind" children) to live better lives.
Jia Xiufang was born and grew up in a village in east China's Shandong Province. Given her efforts to develop her business over the past 15 years, she has become a successful businesswoman, who owns 20 brand stores with eight sales outlets.
Jia has donated over 30 million yuan, combined, to more than 20,000 disadvantaged residents, including impoverished mothers and college students, sanitation workers, disabled and/or impoverished children, elderly residents who live alone and "left-behind" children.
When Jia was 15, she went to Harbin with her father to work and support their impoverished family. She waited tables at a restaurant from early morning till night and never complained about the hard work.
Fortunately, her honesty and diligence attracted the attention of a car factory manager. The man recommended her to be a security officer at the factory.
While she was on duty, Jia earned money by selling cars to customers, after she paid 200,000 yuan to the factory as a guarantee deposit. Since then, she has become a car sales agent.
Every time customers bought cars from her, Jia gave them free rice and cooking oil as presents. Many visitors, who have been impressed by Jia's excellent services, have told their friends and relatives about her. As a result, more and more people have bought cars from her.
In 1999, Jia established her own company, Boneng Group, to sell cars. Jia is honest not only to her customers but also to her employees. She also shows deep concern for the employees as if they were her family members. For example, one of her apprentices was from an impoverished family. His mother suffered from uremia and his father was paralyzed. After hearing about his situation, Jia organized staff members to donate a total of 60,000 yuan to the apprentice. She also offered him 50,000 yuan to cover the costs of his medical treatments.
Jia began providing financial aid to disadvantaged people shortly after she established her company. "My career went well due to the efforts of many people and now I want to do anything I can to help more people," says Jia. She has donated over 600,000 yuan every year to those in need since 2002.
Up till now, Jia has set up a foundation to provide a total of 300,000-500,000 yuan in funds every year, to help impoverished women and children. She has also established a scholarship in several schools, to offer 200,000 yuan, combined, every year to outstanding impoverished students.
Furthermore, she has donated 100,000 yuan in subscriptions to books and magazines for rural schools, and contributed a total of one million yuan in funds to support youths in Heilongjiang to start their own businesses.
Additionally, Jia and her employees visit children, who suffer from cerebral palsy, in a rehabilitation center in Harbin every month during the past 10 years. They offer money and foods to the children during each visit.
Jia has been conferred with many titles, including March 8th Red-Banner Pacesetter, Moral Model and National Advanced Individual (who has made outstanding contributions to helping people with disabilities).
Jia Xiufang and her employees [Heilongjiang Women's Federation]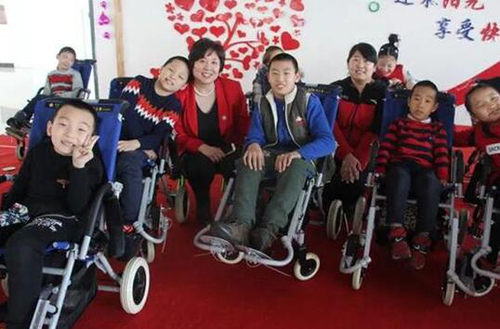 Jia Xiufang visits children, who suffer from cerebral palsy, in a rehabilitation center in Harbin. [Heilongjiang Women's Federation]
(Source: People.cn/Translated and edited by Women of China)