President Xi Calls for Integrity, Patriotism Among Children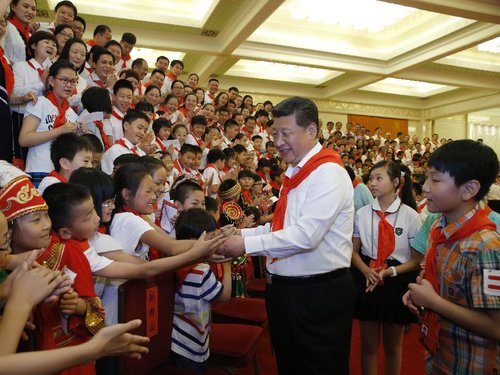 Chinese President Xi Jinping meets with representatives attending the 7th National Congress of the Chinese Young Pioneers in Beijing, capital of China, June 1, 2015. [Xinhua/Ju Peng]
President Xi Jinping has encouraged children in China to love their country, to be good people and to contribute to social progress.
Xi was speaking to some 3,000 members of the Chinese Young Pioneers (CYP) organization and teachers at the CYP's quinquennial congress in Beijing on Monday, International Children's Day.
The president said that he hoped children could be role models by continuing to live within traditional and socialist values; embracing life; showing gratitude and kindness to others; and being well mannered and showing integrity at all times.
Children should strive to be decent people and carefully cultivate their own virtues, he continued.
"Being a good person is to live -- first and foremost -- with integrity, and also with knowledge and responsibility," he said.
Xi said they should always carry China and its people in their hearts, adding that they should also follow the Communist Party of China's instructions and try to be "a good kid that meets the need of the motherland and people and a successor to carry on the cause".
"In you, I see the future of our nation," Xi told the young pioneers. "The socialist modernization drive, and the great rejuvenation of the Chinese nation will be obtained with your hands."
"A person can have a lot of aspirations but the most important are about the motherland and its people," he said. "You should aspire to seek truth and serve the country."
Meanwhile, Xi asked children to be creative, telling them happiness is no windfall, but needs hard work and creation.
"When you grow up, you need to adapt to and create new ideas, knowledge and skills, because the world is changing at a drastic pace," Xi said.
Moreover, Xi asked CYP organizations, governments, social sectors and parents to care for children and support child-related projects.
First founded in 1949 and led by the CPC, the CYP is a national mass organization for Chinese children aged 6 to 14 years, most of whom are primary or secondary school students.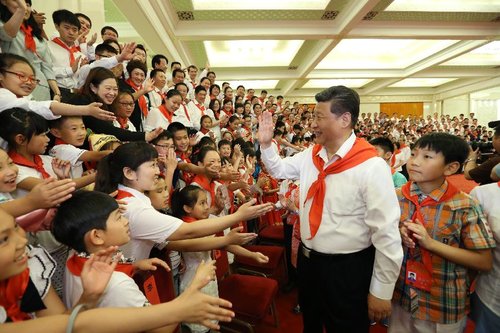 Chinese President Xi Jinping meets with representatives attending the 7th National Congress of the Chinese Young Pioneers in Beijing, capital of China, June 1, 2015. [Xinhua/Ma Zhancheng]
Chinese President Xi Jinping (3rd R front) meets with representatives attending the 7th National Congress of the Chinese Young Pioneers (CYP) in Beijing, capital of China, June 1, 2015. [Xinhua/Wang Ye]
(Source: Xinhua)