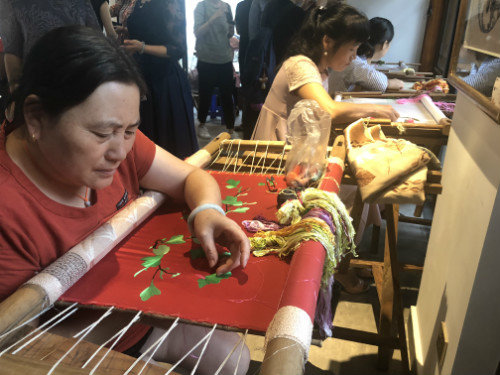 Women demonstrate Taoyuan embroidering skills. [Women of China / Zhang Jiamin]

A laid-off worker, Long Huahui, from Changde, a city in central China's Hunan Province, recently shared her experiences of starting up a business with the help and support of the local women's federation.
Long led and encouraged many local women to become self-employed by following her example and learning hand-weaving skills.
In 2016, the women's federation and handicrafts association of Changde established a women's employment and innovation base located in the Peach Blossom Scenic Spot in the nearby Taoyuan County.
With a total area of 1,039 square meters, the first floor of the base is a show area, where various types of handicrafts are displayed and Taoyuan embroidery is demonstrated by local women.
The second floor has a library, a meeting room and classrooms for organizing training sessions.
As the extension of women and children's development center at the grassroots level, the base is not only a training place for local women to learn pragmatic skills such as handicrafts and childcare, but also a platform to show and sell handicrafts.
On average, it holds four training courses annually on childcare skills, and the number of maternity matrons trained per year is 240. It holds six embroidery training sessions and cultivate 360 embroiderers each year.
With the advantages of huge footfall to the scenic spot, the annual sales volume of manual work has reached 1.5 million yuan.
The women's federation of Taoyuan County has been contributing to spreading positive energy among local people.
In recent years, the local women's federation has actively built its image "Sister Peach" on the Internet, especially new media networks such as Weibo, WeChat, Toutiao and Douyin. The women's federation has explored more creative and efficient ways to tell local women's stories through the vision of "Sister Peach."
Zhou Huiying, president of the county's women's federaion, said:" Because of the infinite possibilities given by the new-media-era, local women can have the access to be active in thinking, with good wishes for the future."
Women make handicrafts. [Women of China / Zhang Jiamin]
Some handicrafts on show [Women of China / Zhang Jiamin]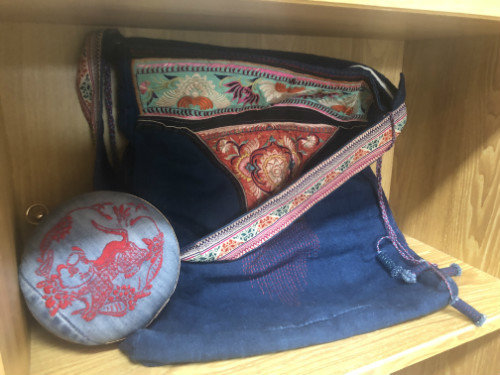 A hand-made bag [Women of China / Zhang Jiamin]
Cloth tigers made by local women [Women of China / Zhang Jiamin]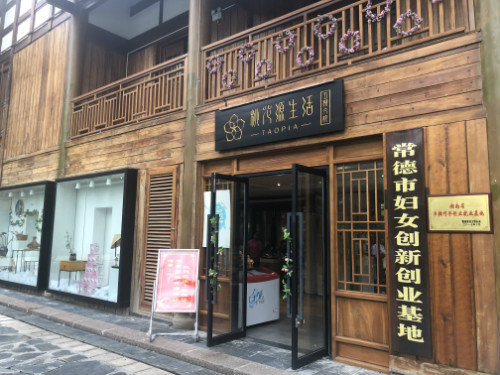 The women's employment and innovation base at the Peach Blossom Scenic Spot [Women of China / Zhang Jiamin]
The Douyin account of "Sister Peach" helps promote women's stories in Taoyuan County. [Women of China / Zhang Jiamin]