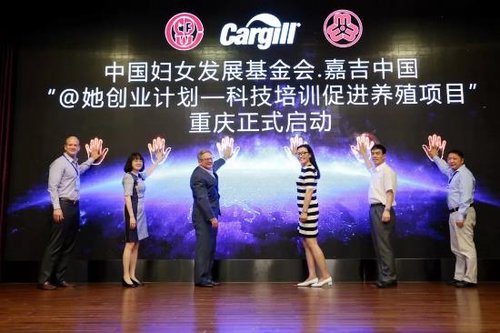 China Women's Development Foundation and Cargill hold a launch ceremony of the Pig-raising Under Technology Project on May 18 to teach entrepreneurial skills to women. [Chongqing Women's Federation]
Organizers in southwest China's Chongqing Municipality held a launch ceremony for the Pig-raising Under Technology Project on May 18 to help teach entrepreneurial skills to local women.
The activity was hosted by China Women's Development Foundation in association with the multinational food corporation Cargill.
Chen Xiaohui, vice-president and Party member of Chongqing Women's Federation (CWF), presided over the event.
Wang Yinxiang, member of the National Committee of the Chinese People's Political Consultative Conference, also a deputy director of CWDF, attended the activity.
Further attendees included Wan Xianglan, president and Party secretary of CWF; Liu Liangui, vice chief of the National Stockbreeding Station, Ministry of Agriculture and Rural Affairs; and, three representatives from Cargill including Bruce Blakeman, Clemens Tan and John Fering.
In recent years, CWF has carried out a rural revitalization campaign and poverty alleviation campaign with the help of many talented women.
By cultivating new types of agricultural businesses such as family farms, professional cooperatives and modern agricultural companies, CWF has led rural individuals, especially impoverished women, to jointly develop animal-raising and breeding initiatives.
In doing so, they have made many contributions to help alleviate poverty and develop the rural economy.
Wan made a speech at the ceremony and put forward three demands to all participants. Female entrepreneurs should enhance their sense of responsibility, improve their skills and strengthen their positive demonstration and guidance.
Chongqing is a key national pig breeding base and pig breeding makes up a significant proportion of the local rural industry.
However, with the limited use of traditional breeding habits and a lack of professional skills, local women face challenges in their businesses.
The project has already developed training courses to strengthen female leaders' sense of responsibility and improve their skills. Some 116 female pig farmers took part in the first training and have made great achievements, according to a spokesperson.
At the event, Cargill donated one million yuan to CWDF to implement the project and contribute to the training of over 300 female pig farmers in Chongqing, leading local women to increase their incomes and further realize poverty alleviation and rural revitalization.
(Source: Women Voice/Translated and edited by Women of China)