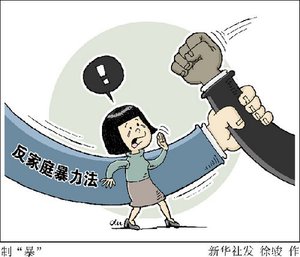 The Legislative Affairs Office of the State Council on November 25 publicized the Law of People's Republic of China against Domestic Violence (draft) to solicit advice from the public. [Xinhua/Xu Jun]
The Legislative Affairs Office of the State Council on November 25 publicized the Law of People's Republic of China against Domestic Violence (draft) to solicit advice from the public, marking the first time that China has developed a law specific to anti–domestic violence.
China has always attached importance to the issue of domestic violence; 29 provinces, municipalities and autonomous regions across the country have formulated local laws or policies to crack down on domestic violence, while the Standing Committee of the National People's Congress (NPC), China's top legislature, has included anti-domestic violence legislation into its current legislative plan, said Member of the Secretariat of the All-China Women's Federation (ACWF) Tan Lin.
Data from the ACWF showed that nearly 30 percent of Chinese families witnessed domestic violence, with male offenders accounting for 90 percent of perpetrators. In recent years, the issue of domestic violence — once considered a "family matter" — has received growing attention, especially given the increase in media reporting on individual cases.
For example, two domestic violence cases in south China's Shenzhen City caused uproar across the country in early 2014. A man injured himself after wounding his wife at the Shenzhen North Railway Station while another man set his wife alight with gasoline in Shenzhen's Luohu District.
In response to the demands from Chinese families, especially Chinese women, the draft has been formulated based on international experience and relevant Chinese practices, which will help China to comprehensively advance the "rule of law," a framework strategy put forward by the 18th Communist Party of China (CPC) Central Committee at its fourth plenary session in October 2014.
Many experts believe the new law to be a milestone in the development of China's legal system, which has made great breakthroughs in making clear the definition of domestic violence, prevention, rescue and legal responsibilities. Of great importance is protecting the rights and interests of all members within the family and safeguarding people's fundamental human rights.
The draft has designated a system and framework for preventing and dealing with domestic violence, which can serve as a practical guideline for people to deal with domestic-violence cases in their life, said Zhou Yingjiang, professor and director of the Office of Scientific Research Management from China Women's University.
Sexual Assault during Divorce Defined as Rape
The draft makes clear the legal responsibilities of domestic violence behavior, of which the most prominent was that of a husband, who has sex with his wife by force when the two live apart or the courts are in the process of dealing with their divorce, shall be punished in accordance with Article 236 of the Criminal Law, which stipulates, "A person who rapes a woman by force, threat or any other means shall be sentenced to fixed-term imprisonment of not less than three years and not more than ten years."
This is the first time that the offense of rape can be applied to the above two situations, said an official with the Guangdong Women's Federation.
In addition, domestic violence victims who commit a crime targeting domestic violence offenders due to long-term abuse shall be exempt from punishment or be given a lesser punishment, noted the draft.
Handling Domestic Violence Cases without Excuse
The draft adopts the first inquiry accountability system for domestic violence cases. The police, Procuratorates and courts are supposed to take over domestic violence cases when receiving relevant reports and charges.
The police should take relevant measures, such as inquiring into parties involved and witnesses while making sound and picture recordings to collect evidence.
The draft makes clear the functions of relevant departments and settles problems around the difficulty to prove and difficulty to register domestic violence, said Li Xiaofei, a lawyer from the Guangzhou branch of Yingke Law Firm headquartered in Beijing.
Protection Orders for Domestic Violence Victims
While dealing with a domestic violence case, the court can issue a protection order for the domestic violence victim involved, noted the draft.
Under the current legal system, the personal protection order is only attached to The Procedural Law while in many domestic violence cases, victims don't file divorce lawsuits and can't apply for a protection order to seek for legal protection, said Duan Yarong, deputy head of the First Civil Court under the Dongguan Municipal Second People's Court in Dongguan City in Guangdong Province.
However, the draft will settle the problem, for it stipulates that even if victims of domestic violence don't apply for a personal protection order, the court can take relevant protection measures for victims if domestic violence is found while dealing with civil cases.
More Efforts to Be Made
Conversely, experts also pointed out that there is still room to be improved with regard to the new legislation and gave their own suggestions.
Regarding the legislation's own definition of domestic violence, experts suggested that the definition could be developed both by offering a theoretical definition of the concept and by providing example cases so as to ensure the inclusiveness and conceptual precision of the definition. Experts also recommended that the concept be developed using international practices as a frame of reference.
As the Law against Domestic Violence has entered the legislative phase of soliciting public opinions, the ACWF also called on women's organizations and Chinese women to take an active role in giving their advice so as to help to produce a domestic violence law with little to no room for improvement.
Any institution or any person can log onto www.chinalaw.gov.cn to give their advice on the draft. They can also send their letters to P.O. Box 2067, Beijing, Zip code: 100035 or send an email to fjtbl@chinalaw.gov.cn.
(Source: China Women's News and Yangcheng Evening News/Translated and edited by Women of China)