[cnnb.com.cn]
Chairperson of the CPPCC Shenyang Municipal Committee Liu Yaqin has raised a proposal to ensure the healthy growth of children through the establishment of related policies and laws.

Liu says that although 'the Law on the Protection of Minors' has been created to protect children's rights, there is still much effort needed in reality if China is to meet the requirements of the 'International Convention on the Rights of the Child'.

In her opinion, there are several serious issues to be addressed in the protection of children's rights and well-being. First, children currently carry a heavy workload when it comes to school, with a large amount of homework and different kinds of tests. Too much free time is spent on lessons rather than on sleeping, recreation and physical exercise.

Second, the public service and benefits provided by the government for children is inadequate. Playground areas and equipment for children are limited and unable to meet the needs of children's mental and physical health. In addition, the current policies regarding childre's benefits are unreasonable.

Third, there is a negligence of safety education for children, resulting in injury and accidents.

In order to address these issues, Liu has made the following suggestions to encourage the healthy growth and development of China's children.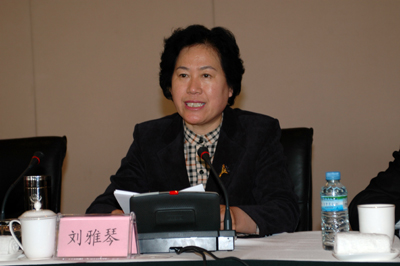 [sypf.com]



1. Relieve the burdens of school-going children. This should begin with changing people's perception of quality education and offering lessons based on developmental patterns. Supervision systems should also be installed to ensure that measures to relieve school children's burdens are followed. More attention should also be paid to the physical health of school children, ensuring that they get at least an hour's exercise every day, breaks between classes are lengthened and students' school hours at school are controlled strictly. Counseling services should also be made available to students.

2. Selection of educators should be made stricter. A more competitive mechanism will ensure that only those with a true love of children and teaching as well as a thorough grounding in child psychology and education principles, will become qualified to teach.

3. Parent committees should be established and developed in every school. It is important for parents to take part in school management and monitoring of teaching quality for the good of their own children.

4. Compulsory safety education should be carried out in primary and secondary schools. Children should be taught self-defense in terms of campus violence, human trafficking and sexual assault as well as traffic, food and medical safety.

5. Create public policies to foster children's development. Playgrounds and physical exercise facilities should be upgraded to encourage children to engage in recreational and fitness activities.

6. Supervision of children's food, toys and everyday items should be strengthened.

7. Children's policies need to concentrate on the benefit of all children, not just disadvantaged children, to create a better social environment for their healthy development.

(Source: womenofchina.cn/ translated and edited by womenofchina.cn)