The People's Daily Online held on Tuesday an open forum introducing the work of the All-China Women's Federation of nurturing female talents. Head of the ACWF Department for Women's Rights and Interests and Director of the ACWF Legal Assistance Center Jiang Yue'e, and Deputy Director of Polices & Regulations Department of Ministry of Science and Technology Lin Xin were on hand to answer to questions.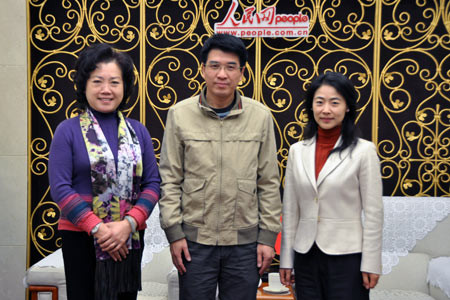 Vice-President of People's Daily Online Luo Hua (C) meets with Jiang Yue'e (L1) and Lin Xin.[people.com.cn]
Jiang Yue'e said at the forum that the basic function of the ACWF is to promote gender equality and protect women's rights and interests. President of the All-China Women's Federation Chen Zhili emphasized the importance the ACWF attaches to promoting female talents, especially in the field of science and technology, apparent in the program it launched in 2009 to promote policies and research in this regard.
(Source:people.com.cn,acwf.people.com.cn/Translated by womenofchina.cn)