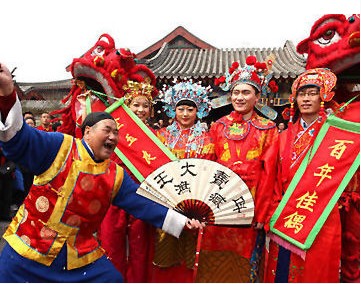 A contemporary couple wed in Chinese traditional style. [360doc.com]
China has during its long history and civilization cultivated complex courtship and wedding conventions. For millennia, prospective husbands and wives met and married according to the dictates of parents and the advice of matchmakers. Courtship entailed rituals such as sending betrothal presents and a dowry, intertwining locks of the newly-weds' hair, and the happy couple each wearing at their wedding ceremony a phoenix coronet and courtly robes. The bride's ceremonial departure from her family in a red sedan chair was also a main feature of the marriage ritual.
Western wedding conventions such as the white bridal gown that entered China at the beginning of the Republic of China period (1912-1949) were often combined with and included in Chinese wedding rituals.
With the establishment of New China in 1949, the institution of marriage extended beyond the family to become an aspect of the revolution that required the sanction of each individual's work unit. This, however, had changed by the reform and opening up period of the late 1970s, by which time wedding conventions had diversified. During the 60 years since the foundation of new China, modes of tying the knot have varied according to individual preferences.