Idols of the 1920s
Yan Shanshan (L), Zhang Zhiyun (Lower-R), Wang Hanlun (Upper-R), and Yin Mingzhu (M). [miltt.com]

The film documentary shot in 1905 on the Peking opera Dingjun Mountain marked the birth of Chinese cinema. Two decades later, a group of actresses – the so-called four Dan (a term from Chinese opera meaning female roles) –became the acknowledged female icons of Chinese film.

Before the Hong Kong-produced movie of 1913 Chuang Tzu Tests His Wife, women's roles, as in Chinese opera, were played by men. Yan Shanshan's role as maidservant made her China's first professional movie actress.

Born in 1896, Yan joined the Guangdong Women's Expedition Bomb Team during the Xinhai Revolution of 1911. The same year she married Lai Man-wai, now known as Father of Hong Kong Cinema. In 1913, she and then husband Lai co-founded the Hong Kong Meihua Film Company and produced the short film Chuang Tzu Tests His Wife. Lai himself played the role of the wife, owing to the general reluctance of women at that time to work in the entertainment business.

Zhang Zhiyun (1904-197?), original name Zhang A'xi (some sources say Zhang A'shan) was born in the Guangdong village of Panyu, now part of the city of Guangzhou. Her father died when she was three-year-old and she and her mother moved to Shanghai. Zhang's roles in the Da Zhonghua Film Company's first two features caught the attention of the larger, better-funded Mingxing studio, which promptly signed her up. Her leading roles in three consecutive Mingxing hits made Zhang, along with Wang Hanlun, Xuan Jinglin and Yang Naimei, one of what the press termed the Mingxing four great Dan. A poll in Shanghai New World magazine of 1926 placed her at the top of the Dan league.

In 1927, Zhang Zhiyun married and went to America with tea magnate Tang Jishan. Tang exploited as a sales gimmick in the US Zhang's status as China's "Empress of Movies," and abandoned her a few years later to return to Shanghai.

Zhang also returned in Shanghai in hopes of making a movie comeback. She was unsuccessful, and sank to depths of poverty that forced her to beg on the street. She died in Hong Kong, in obscurity and poverty, on an unrecorded date in the 1970s.

Wang Hanlun, another of the four Dan, born Peng Jianqing in 1903, was a native of Suzhou, Jiangsu Province. Wang graduated from college with a degree in English language. After marrying and divorcing, she went to stay with a distant relative. She eked out a living for a while as an English teacher and later as an English language typist.

At around this time, the Mingxing Film Studio was casting its first full-length feature, An Orphan Rescues His Grandfather. One of the studio's founders, Ren Jinpin, met Peng Jianqing at the home of a mutual friend. Ren was impressed with this young woman's dignity, confidence, grace and charm. She seemed to possess the qualities director Zhang Shichuan sought for the leading role of shao nainai, or "young mistress," the daughter-in-law of the eldest son of a wealthy family and hence heiress apparent to first lady of the clan. Peng did a screen test and the company promptly offered her a contract.

The wisdom of Ren Jinpin's judgment became plain that summer when shooting began of An Orphan Rescues His Grandfather. Wang Hanlun's intelligence and mature work ethic, as well as her personality and temperament, fit the leading role of Yu Weiru like a glove.

Wang's sensitive portrayal of the besieged heroine moved cinema audiences, making An Orphan Rescues His Grandfather China's first national hit and Wang Hanlun an overnight sensation.

Last but not least of the four Dan was Yin Mingzhu, also known as Pearl Ing, born Yin Shangxian in 1904 in Wujiang, Jiangsu Province. Her professional name Mingzhu (Pearl) was the term of endearment given to her by her parents. She added the name Pearl out of admiration for American star Pearl White.

In 1921, Pearl Ing met young artist Dan Duyu (aka Darwin Dann), who had just formed his Shanghai Photoplay Company and was casting for its first motion picture, The Sea Oath, released in 1922. Pearl landed the leading role. Although not a critical success, the movie did well at the box office and Yin Mingzhu became an overnight star. In doing so, Yin Mingzhu shattered the convention of actresses being little more than eye candy or part of the backdrop against which men occupied the main roles.

This pinnacle almost turned out to be Ing's last, as her mother objected to her daughter becoming an actress and insisted on her finding some other, more respectable line of work. The 18-year-old took a job in a medical clinic, but three years later returned to movies to star in another Dan Duyu production, Home Again. On February 1, 1926, Pearl and Darwin married in Hangzhou, becoming China's equivalent to Mary Pickford and Douglas Fairbanks. Of the more than 30 movies Dan Danyu directed in his career, Yin Mingzhu took the lead in around half of them. Their most successful collaboration was 1927's The Spider Cave (Pan Si Dong), based on an extract from the classic novel Journey to the West (Xi You Ji), in which she played the Spider Queen. No copies are known to exist today of this or any of the couple's films.

Idols of the 1930s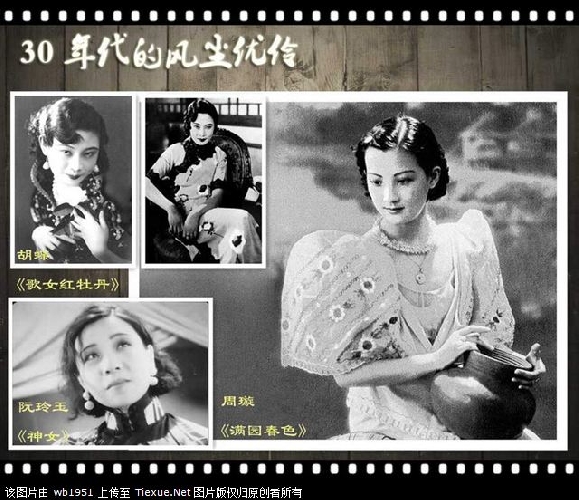 Hu Die (Upper L), Ruan Lingyu (Lower-L) , Zhou Xuan (R) [miltt.com]

Hu Die (original name Hu Ruihua) born in 1908, was the daughter of a Shanghai railway inspector. In 1924, she chanced upon a Chinese film school ad for potential movie performers. A lover of theater since childhood, Hu Die applied in hopes of joining China's fledgling film industry.

Hu's first role upon graduation was in the silent film Success on the Battlefield. She took leading roles in more than 20 films for the Youlian and Tianyi studios before joining Shanghai's largest and most celebrated Mingxing studio.

Burning the Red Lotus Temple, an 18-part martial arts saga made between 1928 and 1931, was among the most notable Mingxing movies in which Hu starred.

In 1931, Hu Die took the title role in China's first sound motion picture, Sing Song Red Peony. She also starred that year in left-wing silent classics Raging Torrent, Cosmetics Market, and Salt Tide, all of which were withdrawn soon after completion because of the negative perspectives they presented of the Chinese government. One of Hu's greatest acting achievements was in the 1933 sound movie Twin Sisters, in which she portrayed two siblings of totally different personalities.

Hu Die being a homonym for the Chinese word for butterfly, her name in the credits often appeared as "Butterfly Wu."

In 1935, Hu Die was among the Chinese delegation to the Moscow International Film Festival. The group later mingled with film circles of Germany, France, England and Italy before returning to Shanghai via Hong Kong. The trip was of enormous value to China's film industry in establishing foreign contacts and drawing to it much-needed overseas attention.

Having retired to raise her children, Hu Die came out of retirement in 1960. She adjusted well to the roles of older women, often mothers in troubled relationships with adult children.

Hu Die left the world of film for good in 1967, when she became a 60-year-old widow with children and grandchildren mostly living in North America. She retired to Canada that year, and died of natural causes in Vancouver, in 1989.

Zhou Xuan (1918-1957) was born in 1918 (some sources say 1920) in Su Pu in Changzhou, Jiangsu Province. Her impoverished family sold her as an infant to a procurer, who placed her in a brothel to be trained as a courtesan. But when she was two or three, a Shanghai couple named Zhou saw and were so charmed by the little girl that they adopted her, giving her the name Zhou Xiaohong. Her actual birth date is unknown.

Zhou displayed exceptional singing talent at an early age which her adoptive family had the means to cultivate through formal training. In 1931, she joined the Shanghai musical company Ming Yue (Bright Moon) Society, run by Li Jinhui. On her first performance the 13-year-old sang The Glory of A Nation, which featured the verse "Contend with the enemy on the battlefield".

Her rendition of this song was so well received that troupe director Li Jinhui changed her stage name to Zhou Xuan (Xuan meaning contend or deal with). Soon after, Zhou came second in a singing competition in Shanghai and before long was China's top pop vocalist, known by the press and public as Golden Throat. After acting in several movies in the 1930s, including Street Angels with Zhao Dan in 1937, she joined the Guohua Film Company in 1938, and starred in 20 of its feature films.

Ruan Lingyu, most admired actress in Chinese movie history, was born Ruan Fenggen in 1910 in Shanghai to a family whose ancestral home was in Guangdong Province.

Intent on becoming a movie actress, 16-year-old Ruan Lingyu joined a film studio in 1926.

The 29 silent films Ruan appeared in attest, almost a century later, to her stature as the greatest-ever Chinese film actress. Sad to say, Ruan proved the truth of the adage "gossip can kill." Unfounded rumors throughout the press that she had been carrying on an extra-marital affair drove her to commit suicide on March 8, 1935—National Women's Day—in Shanghai.

Ruan's acting was of a quality decades ahead of its time to the extent that, 70 years later, it rivals that of the finest exponents of the Method School. She used her whole body to convey mood and ambience. As film critic Lesley Chow of the Bright Lights Journal observes, "Ruan's hands are always busy with some little motion—touching up her appearance, unfastening ties and clasps – and these moves are performed with such delicacy that, even without sound, we get a close textural involvement." Ruan thus overcame the limitations of early silent films through acting virtuosity to which A-line stars of today, whose so-called body language expresses nothing, could not hope even to aspire to.

Stars of the 1940s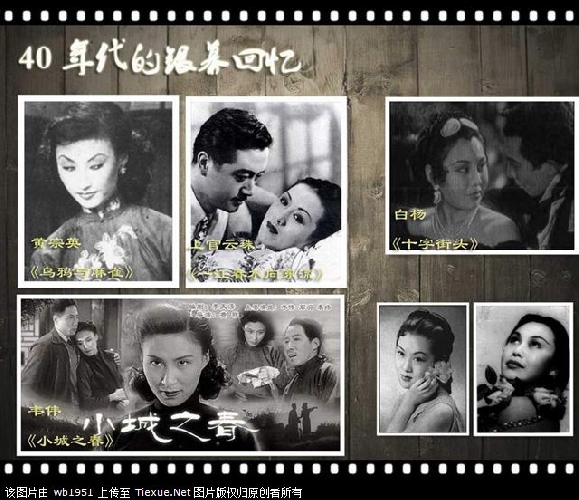 Huang Zongying (Upper L1), Shangguan Yunzhu (Upper L2), Wei Wei (Lower L), and Bai Yang (R) [miltt.com]


Shangguan Yunzhu was born in 1920 in Jiangsu Province. In 1937, the chaos of war forced her family to flee to Shanghai, where she later entered drama school. Shangguan acted in her first movie in the 1940s and soon began to distinguish herself in film circles. Many of her films of the late 1940s, such as The Crow and the Sparrow and Spring River Flows East are regarded as Chinese movie classics. Shangguan was harassed to death in 1968 during the 'cultural revolution.'

Bai Yang (1920-1997) made her name in 1936 in Crossroads, which she co-starred with Zhao Dan. Bai took the leading role of Yang Zhiying, a young woman from a bourgeois family working as an instructor in a cotton mill who cherishes illusions.

In the 1940s Bai Yang was the principal performer in Clouds and Moon over 8,000 Li of Roads and The Spring River Flows East, in which she plays Li Sufen, a woman of dignity, sincerity and rich inner feelings who personifies the traditional Chinese ideal of a good wife and caring mother. Bai Yang's career continued through to the 1960s in such roles as For the Sake of Peace, New Year's Sacrifice, Jin Yuji and Dongmei.

She reached her pinnacle of performing excellence in 1956 in the role of Xianglin, whose baby son is taken by a wolf, in New Year's Sacrifice. In her late years, Bai Yang developed an understated but distinct style wherein her movements and facial expressions finely expressed the temperaments of the characters she portrayed, giving an impression of refinement and gentleness characteristic of women of the orient.

Bai Yang was vice-president of China Film Association.

Huang Zongying, born on July 13, 1925 in Beijing, is one of China's most celebrated writers and film actresses. She became well known for her role in the classic The Crow and the Sparrow starring Bai Yang.

After the founding of the People's Republic of China (PRC), Huang worked at the Shanghai Film Studios and appeared in the films Family and Nie Er (composer of March of the Volunteers, the PRC national anthem). In 1954, Huang wrote the screenplay for the film Ordinary Career.

In 1965 Huang's focus turned to literary creation when she joined the Shanghai branch of the Chinese Writers Association. She thus made a perfect transition from acting to writing.

Wei Wei, born Miao Mengying in 1918, joined a Shanghai professional drama group in 1941. She took the leading female role in Fei Mu's classic Spring in A Small Town shot in 1948. She later starred in Year In, Year Out, Love at First Sight, and They All Want A Baby.