Marriage being a crucial commitment, Chinese women have taken due care since China's liberation when choosing their life partners. Popular concepts of the ideal husband that have changed along with values and social mores reflect social and cultural transformations since the establishment of New China.
In feudal times, Chinese women had no right of participation in political or economic life, negligible marital rights and low social status.
The May Fourth Movement of 1919 liberated women's thinking. Broader educational opportunities also enabled a fortunate few to choose life partners whose personalities, rather than economic status, appealed to them.
Most women, however, looked for men of economic means sufficient to support them for the rest of their lives.

1950s to 1970s: Family and Political Background Foremost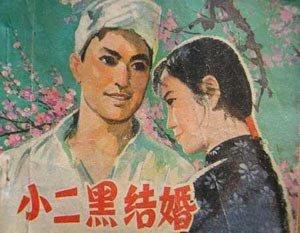 Front cover of Zhao Shuli's novel Xiao Erhei's Marriage. [jxsrxhyy.com ]
The founding of New China in 1949 brought with it a dramatic change in criteria for choosing a husband. It reflected on the one hand women's political, economic, and cultural pursuits in a specific historical period, and on the other the political, economic and cultural changes during the process of socialist construction had wrought on women's preferences of life partner.
In the early days of New China, women most admired war heroes, model workers and People's Liberation Army soldiers. A potential partner's political background and family status came under close scrutiny.
Women residents of both large and medium-sized cities and rural areas gave priority of choice to party members, PLA soldiers, government workers and rural cadres.
As long as he had a solid political background, economic status, looks or age mattered little.
At a time when the country's construction was thriving, scientific and technical personnel, factory workers, and peasants of good political background were also viable life partners.
The next change came with the 'cultural revolution' (1966-1976) and the influence of ultra-leftist thinking, whereby a partner's political background superseded all other factors. In urban areas the Five Red Groups, comprising revolutionary army men and cadres, workers, poor peasants and lower-middle peasants, were most in demand, although the worker class topped the league. In rural areas, the best marital prospects were poor or lower-middle peasants, especially landless farm laborers, who were proud to be so classed.
Women had no expectations of cultural quality or economic wherewithal in their potential husbands. So-called educated intellectuals came under the "stinking ninth" category—an ultra-leftist term meaning class enemies which covered teachers and others who had been through higher education, and also included landlords, reactionaries—even spies.
Other than high-ranking officials on slightly higher-than-average incomes, men of marriageable age earned more or less the same. In rural areas, where a system of equal distribution was in force during the first years of New China, everyone ate from the same big pot.
At the end of the 'cultural revolution' the Party and government began to promote economic, cultural and educational development. Life partner criteria changed in tandem with this trend.
Workers, peasants and soldiers fell from popularity after the restoration of the college entrance exam in 1972. College students then came to the fore as they were deemed to have a better political background, economic conditions and cultural qualities.
This was an improvement in values that objectively led to a respect for knowledge.