Changing priorities in love and marriage reflect each historical epoch. From having no other option but passively to accept arranged marriages, Chinese women have gained their right to decide for themselves on their own life partners, been in "DINK" partnerships, tried speed-dating and, as mistresses of their own lives, decided not to marry at all if it does not suit them.
During the 60 years since the founding of the New China, Chinese women's concepts of love and marriage have hence undergone enormous changes.
Freedom to Love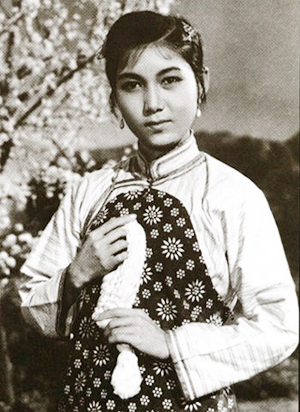 Still from the movie Liu Qiao'er, the main character who refused to enter the marriage her father had arranged for her because she wanted to marry the man she loved. [china-woman.com]

The first Marriage Law of New China freed women from their obligatory passive acceptance of arranged marriages. Until then, parents and matchmakers had picked their marriage partners. Child brides and polygamy were the norm for millennia. Within marriage they were regarded as little more than incubators for sons to carry on their husbands' family line.

The first Marriage Law, which came into effect in April 1950, saw the abolition of arranged and forced marriages and the law stipulating freedom of marriage and monogamy.

The dream of free love thus became reality. The character Xiao Qin in Xiao Erhei's Marriage, a popular movie at that time adapted from Zhao Shuli's novel, boldly refuses to marry other than for love. She became a role model for young men and women. That her mother, He Xiangu, was portrayed as a villain signifies the passage of Chinese women into a new age where they were free to pick their own mates.

"I dreamed last night that you were named a model, that everyone praised your shooting skills and called you as a hero in fighting the Japanese enemy," Xiao Qin sings to her lover Erhei in the movie. "Model" and "hero" were key concepts in women's marital choices.

In the TV series Years of Burning Passion the heroic regimental commander Shi Guangrong has a crush on Chu Qin, a young dancer in a yangko (rural folk dance) team. They marry through the unit matchmaker.

Matchmaking was a common marriage mode in the early years of New China. Many of couples who so met and married became truly loving couples.

Divorce was originally considered as signifying women's liberation. After promulgation of the new marriage law, the break-up of many feudal marriage modes such as child brides and polygamy triggered China's first tide of divorce.

Between 1951 and 1956, about six million couples divorced, according to statistics. This generated a huge number of single women. Sociologists refer to it as China's first wave of singledom.

The consequences of divorce were often tragic amid the historical conditions at that time. It might be said that, on the whole, Chinese women paid a heavy price for their own liberation.

Chinese women nonetheless regard freedom of love and marriage as their right as human beings.