The 1990s: Dynamic Threads
Power dressing characterized styles of the 1990s. Opening-up brought China into a far wider scope of communication and swept it along with the tide of Paris, Milan and US fashions. Women's outfits often expressed an unprecedented scope of moods and themes.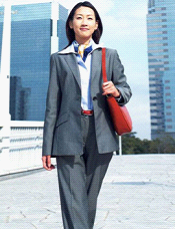 A power-suited career woman [28.com]
Working women often dressed in suits to reflect their mature temperament, refinement, confidence, capability and resourceful spirit born of their educational and professional backgrounds.
Pencil Skirts
The pencil skirt [info.texnet.com.cn]
The TV series market rose in the early 1990s. The leading characters in the series Priceless Friendship and Public Relations Lady both generally wore pencil skirts.
The pencil, also known as the one-pace skirt, permits only small steps. Short and tight, it accentuates curvy hips and shapely legs. It is now a standard item of white collar women's work outfit.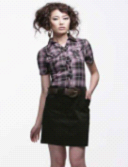 The pencil skirt [28.com]
The longing of urban dwellers for comfort in natural fabrics after a busy day at work prompted the return of looser modes in simple designs, often with a belt, that also emphasized feminine elegance.
Floral printed dress [28.com]
By the late 1990s, fashionable dresses included many selling points, such as sequins, asymmetrical shoulders, floral decorations, among which the lotus leaf is most popular among women because of its connotation of gentleness and charm.
The Beibei dress, or baby dress. [tupian.hudong.com ]


The empire-line tiered, scoop-necked, sleeveless Beibei dress, which also often featured a belt tied at the back, was popular in the summers of 1993 and 1994.
The timeless cheongsam [Changgongan.blog.163.com]
At the end of the 20th century, after a decade of foreign-influenced fashions, Chinese followers of fashion finally reverted to their ethnic dress origins.
The cheongsam, modified for the new age, returned. Traditional Chinese clothing in auspicious designs and colors outsold monochrome, minimalist Western creations in both urban and rural areas.