New China Fashions

The first 17 years after the founding of New China in 1949 saw rapid advances in clothing culture. But this trend ground to a halt in 1966, year of the onset of the 'cultural revolution,' and a ten-year fashion hiatus.

1950s: Thrift and Simplicity

After 1949, the army promoted women's fashions in wholesome colors and comfortable styles. This trend sent the stylish silk cheongsam, generally in reds, pinks and yellows, into temporary retirement.

The pursuit of fashion was instead channeled into revolutionary zeal, the main social sentiment being "Labor is beautiful" and the accent on "inner beauty."
Bragi dresses (one-piece dresses) [baike.baidu.com]

The Bragi dress (Bragi is the Russian transliteration of one-piece dress) and Lenin coat exemplified the simple, thrifty wear of the 1950s. Posters, periodicals and films from the Soviet Union featuring women in Bragi designs encouraged women of all ages—students, young wives and matrons—to wear these styles. Suspender cargo pants worn with a white shirt was also a popular outfit among girl students.

The dresses were baggy and in a limited range of colors and styles –mainly floral, plaid and stripes—which disguised rather than accentuated womanly charms.

Chinese women's adoption of Bragi wear was a way of showing solidarity of political beliefs and reinforcing friendship ties between China and the Soviet Union.

When relations between the two countries soured the name Bragi was seldom heard. But women carried on wearing dresses in that design.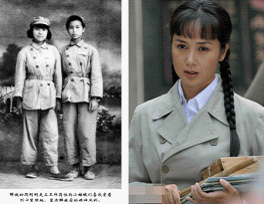 Lenin Suit The Lenin suit [baike.baidu.com]

The Lenin coat, as part of a suit, also came to China from the Soviet Union. Its double-breasted style, with open collar and a cloth belt was suitable for both sexes of all ages, but actually flattered feminine curves.

Along with the Chinese Sun Yat-sen tunic suit, it was regarded as high revolutionary fashion.Simplicity and thrift being the keynote of 1950s clothing modes, garments in shades of green, blue, black, or gray, preferably patched, were most admired. People often scrubbed new clothes so to make them look worn.