The Republic of China Period (1912-1949)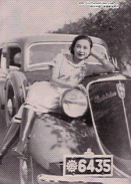 A Chinese woman in the Western-style casual attire commonly worn during the Republic of China period (1912-1949) [culture.hebei.com.cn]
The fall of the Qing Dynasty and establishment of the Republic of China freed women from the physical and mental bonds of the feudalism that had so long constrained them. Many embraced Western clothing and hair fashions during this period.
The cheongsam, remodeled along Western lines, exemplified the accentuated femininity of fashions of this time.
The front pages of magazines during the Republican period showcase transformations in women's dress.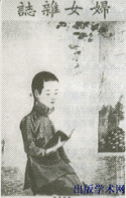 A traditional Qing Dynasty outfit worn in the early years of the Republic of China. [pubhistory.com]

Reformers during the early years of the Republic of China promoted women's scientific and cultural education in efforts to cultivate them as even better wives and mothers. Women's garments at that time remained more or less in traditional Qing Dynasty style.
A more feminized outfit. [pubhistory.com]



The New Culture Movement of 1912 launched the New Women campaign that encouraged women to acquire new skills and knowledge. It introduced the vogue of short-sleeved blouses and knee-length skirts that accentuated Chinese women's slender but curvaceous figures.
Dresses fashionable at that time were figure-hugging with wide sleeves, a round sweep and a high collar that accentuated the neck.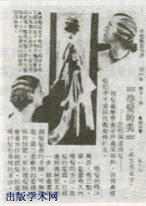 An article on permanent waving techniques [pubhistory.com]
The popular use of cosmetics in the 1930s encouraged women to apply make up to suit diurnal and evening wear and sports and dancing activities.
The popular student outfit [pubhistory.com]
The many women that broke free from dress-related restraints appeared in public space and so colored the urban culture.
Women in swimwear [pubhistory.com]

Western sports introduced to China during the late Qing Dynasty did not become popular among Chinese women till the 1930s, with the appearance of girls' schools whose curricula included gym. It was then that sportswear entered Chinese women's wardrobes.