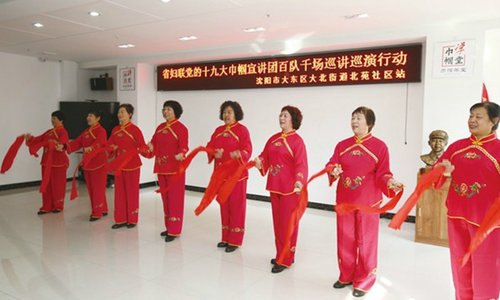 Performers present a show during a publicity event to spread the spirit of the 19th CPC National Congress [Liaoning Women's Federation]
Women's federations in northeast China's Liaoning Province have pressed ahead with reform and united citizens from every section of society to follow the call of the Communist Party of China (CPC) over the past several years, according to a recent statement.
Through these actions, federations in the province have achieved remarkable progress in the protection of women's rights and interests.
Local women's federations have strongly emphasized the implementation of Xi Jinping Thought on Socialism with Chinese Characteristics for a New Era and the key points of a high-level national conference on improving the operation of mass organizations held in Beijing in 2015 in the process.
Making full use of new media on the basis of traditional publicity platforms
For example, Liaoning Women's Federation (LWF) has formed an alliance with local major media groups to better serve the interests of women and children in the digital era.
A total of 956 new media platforms and 76,600 WeChat accounts have been set up by federations across the region in a bid to strive for the upper hand in terms of internet-based ideological and political publicity work.
Meanwhile, officials from women's federations, deputies to people's congresses and CPPCC members at various levels have been organized to visit grassroots audiences; speak with them about Xi Jinping Thought on Socialism with Chinese Characteristics for a New Era, the spirit of the 19th CPC National Congress, major decisions and plans made by Liaoning Provincial Committee of the CPC and Liaoning Provincial People's Government, as well as the Party's policies; and, boost their morale and enthusiasm toward the development of local social and economic affairs.
Local women's federations have opened 2,310 classes in Women's Home activity centers in residential communities and villages over the past few years in a move to improve their ideological, political and academic knowledge.
Providing women with assistance in entrepreneurship, building of model households
Local women's federations have implemented many schemes to help women, especially college graduates, find employment or start personal business ventures.
For instance, a strategic partnership has been built with the Postal Savings Bank of China to ease the difficulties faced by businesswomen in getting loans.
LWF has invested 10.4 million yuan over the past eight years to build 241 demonstration bases in a drive to provide female role models in rural areas with scientific and technological training. Moreover, it has worked with Liaoning Bureau of Commerce to set up 22 e-commerce demonstration bases, train 1,270 practitioners and recommend 251 products to enter the online market.
In addition, women's federations have made full use of their functions in the selection of role model families, the promotion of traditional Chinese culture and family virtues, and the battle against corruption among households, with the help of government officials in different departments.
Introducing concrete measures, increasing sense of fulfillment, happiness
LWF has worked with other provincial departments during the past few years to include the assessment of gender equality into the formulation of regional laws and policies, and issue a guideline to crack down on domestic violence.
Liaoning has made an investment of 48.96 million yuan over seven years to build 288 activity centers for women and children in rural areas. Children, whose parents have left them alone at home to find work in far-off cities, can go to these places to find psychological counseling, assistance in academic studies, and other forms of care.
Meanwhile, local governments have prioritized the coverage of more rural women in free medical screening initiatives against breast and cervical cancer and multiple-means of assistance to rural women in agricultural and animal industry.
The province is set to provide 680,000 rural women with free medical screenings each year by 2020.
The representation of outstanding women from all sectors of the society in the composition of the LWF's standing committee and executive committee has reached 34.8 percent and 43.5 percent, respectively, a rise of 17 and 10 percentage points since the introduction of reform.
The federation has also organized members of its executive committees to regularly visit the public and provide actions in response to their concerns.
(Source: China Women's News, Liaoning Women's Federation / Translated and edited by Women of China)