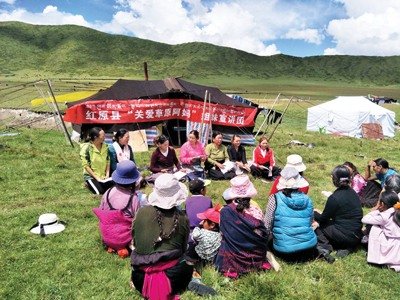 A publicity delegation talks with mountainous residents about the call of the CPC and national laws during a visit. [Sichuan Women's Federation]
Women's federations in the southwest province of Sichuan have rallied under the leadership of the Communist Party of China (CPC) to obtain the close support of women from every section of society since the 18th CPC National Congress in 2012, say local officials.
At the same time, Sichuan federations have introduced multiple efforts to guarantee women's rights and interests.
For example, Sichuan has released a guideline to facilitate the implementation of gender equality; set up an assessment mechanism regarding the integration of gender equality into legislations and policies; created mediation service centers to deal with family violence and marital disputes; and, enlarged access for rural women to enjoy free medical screening for breast and cervical cancers.
The province has also made responses to political participation, the management of public affairs, the coverage of medical insurance and legal aid, the battle against gender discrimination in workplaces, bullying in schools, sexual assault, and other hot topics related to the protection of the rights and interests of women.
Meanwhile, local women's federations have organized many delegations to visit grassroots people and spread of the call of the CPC as well as national laws. Hundreds of female role models have been selected from various sections of society to inspire more people to follow their exemplary deeds and commit themselves to the development of social and economic affairs.
Equal efforts have been given to reducing poverty, the creation of employment opportunities, the organization of vocational training, and the distribution of micro-credit loans amongst impoverished women in key areas across the province.
For instance, over 700 demonstration bases have been established in mountainous areas to help 148,000 poverty-hit women find jobs. A total of 16,500 women from registered impoverished families have been conferred with micro loans worth 420 million yuan in the building of their own business ventures.
In addition, federations have extended significant assistance to overseas returnees in the establishment and expansion of their business activities during the same period.
Businesswoman Zheng Shenglan is one such example. She returned home after the end of her overseas studies in 2012.
Zheng has since worked with her teammates to jointly set up a platform intended to provide local women with professional assistance in their entrepreneurship and innovation projects. So far, over 30,000 people have benefited from her initiative.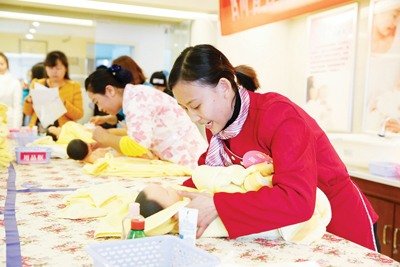 Contestants demonstrate their skills in a competition to display their babysitting qualifications. [Sichuan Women's Federation]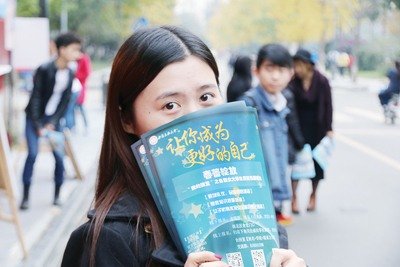 A college student attends vocational training at Chengdu-based Southwest Minzu University. [Sichuan Women's Federation]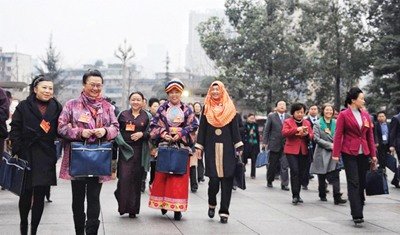 Female deputies to the 5th session of the 12th Provincial People's Congress of Sichuan [Sichuan Women's Federation]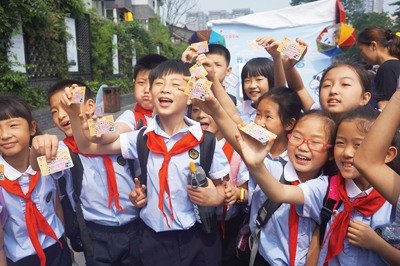 Student volunteers receive certificates. [Sichuan Women's Federation]
(Source: Sichuan Women's Federation/Translated and edited by Women of China)