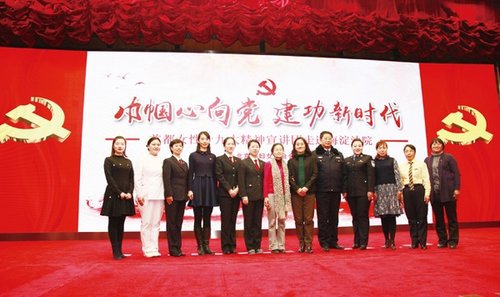 Members of a publicity delegation spread the spirit of the 19th CPC National Congress at a court in the Haidian District of Beijing. [China Women's News]
Beijing Women's Federation (BWF) has closely followed the instructions of the All-China Women's Federation regarding reform, drawn inspiration and developed practices from its work in pilot areas and taken concrete steps to help bring benefits to locals, according to a recent statement.
These measures have been implemented since the 18th National Congress of the Communist Party of China (CPC) in 2012, and since a national conference on improving the operation of mass organizations in 2015.
Following Party's Call
BWF has emphasized the implementation of Xi Jinping Thought on Socialism with Chinese Characteristics for a New Era in its ideological and political work.
It has sponsored themed conference and training sessions, held inspection tours in local districts and counties, and organized delegations to publicize the spirit of the 19th CPC National Congress in a move to deepen local women's understanding and recognition of Xi Jinping Thought.
These publicity tours have drawn the attendance of 12,000 people and a viewership of over 3.5 million people through online streaming.
As of now, township-level women's federations and sub-district offices across Beijing have completed their regional construction and included some 53,000 people into their executive committees in a bid to promote the reform of grassroots women's federations.
Meanwhile, all villages in the city have accomplished the transformation of their women's federation from former village women's congresses and added 51,233 people to their executive committees.
Moreover, BWF has put great efforts into expanding the coverage of women's federations in government departments, women-centered private enterprises and other organizations. For instance, 1,410 women's organizations have been formed in non-public economic entities.
In addition, all Women's Home activity centers at the grassroots level have been provided with a certain amount of financial assistance to ensure their normal operation.
Strengthening Ties
BWF has selected four people from among local outstanding female officials, appointed them as part-time vice-presidents, and allowed them to make full use of their strengths in personal workplaces.
The city has achieved noticeable progress in the improvement of the representation of outstanding women from various ethnic groups and industries in women's congresses at municipal and district levels, along with the congresses' executive and standing committees.
Officials from BWF and district women's federations are expected to work in a village or residential community for at least a month each year in a drive to improve their work styles, spread national policies and learn more about people's lives.
Furthermore, BWF has made full use of online portals and offline resources to boost its attractiveness and influence amongst the public.
For instance, its official accounts on social media platforms, such as WeChat and Sina Weibo, have attracted over 3.2 million followers, while an online lifelong learning platform has signed up roughly 55,000 registered members.
Furthermore, BWF has built a partnership with Radio Beijing Corporation and Beijing New Media Group to promote its popularity amongst the public.
Institutional Building
Some 750 delegates to Beijing Municipal Women's Congress have been divided into 29 delegations to regularly visit residents, carry out inspection tours and hold training sessions in a move to strengthen ties with the public.
More importantly, each delegate has been provided with an annual allowance of 700 yuan to guarantee their regular interaction with local women.
In addition, BWF has worked with independent organizations to conduct professional surveys about women's needs and hold an assessment over its services and programs.
The public's views have been solicited in the recommendation and selection of role models.
According to BWF President Cai Shumin, the reform work has further boosted the morale and enthusiasm of local women towards social and economic development, included more outstanding women into the women's federations staff, promoted the building of grassroots women's federations, and elevated the participation of all sorts of women in the work on women's affairs.
Attendees at an expo on charity services for women and children in Beijing earlier this year [China Women's News]
(Source: China Women's News, Beijing Women's Federation/Translated and edited by Women of China)