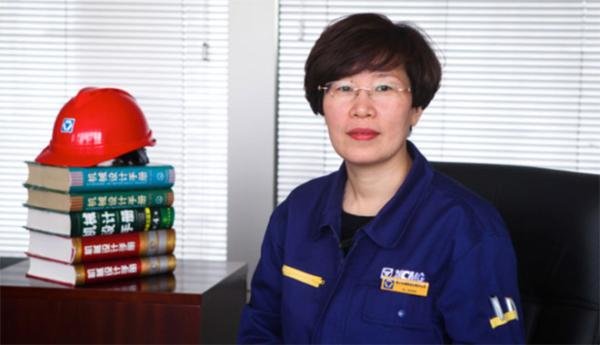 Sun Li [china.com.cn]

Sun Li, a senior engineer of the Machinery Construction Branch of Xuzhou Construction Machinery Group Co., Ltd. (XCMG), recently shared her working experiences in the crawler crane industry.

Sun, a leading figure in arm frame technology in the crawler crane industry, has successfully completed the R & D task of "the world's No.1 crane" — 4,000 ton crawler crane — in 2013, which broke the long-term monopoly of foreign enterprises. Meanwhile, she has also invented many combined types of arm frame systems, filling a number of domestic technology gaps.
Although large crawler cranes have hundreds of years of history, China has started importing them only since after the 1980s.
When Sun had just entered the factory, XCMG was producing the first 50-ton crawler crane with independent property rights, but at that time, Liebherr of Germany owned an 800-ton crawler crane, which deepened Sun's aspiration to produce Chinese cranes at a top world level.
In 2002, Sun received the R & D task for the tower arms of a 150-ton crawler crane. However, at that time, China's engineering design and the manufacturing level were relatively underdeveloped.
Confronted with such a huge challenge, Sun had no choice but to give up taking care of her daughter, who was less than half a year old. During those days, Sun went to different places to collect practical data and at night, she stayed up late to calculate data and made design papers.
A year later, XCMG QUY150, which was then hailed as China's No. 1 crane, was successfully produced, and the application results of the tower working conditions that Sun was in charge of have also been assigned as teaching materials in the industry.
Furthermore, Sun together with her team had finished the overall design of many products, including the 260-ton crawler crane and the 350-ton crawler crane, as well as 13 designs of the crane boom system, thus solving bottleneck problems of some large ton crawler crane products.
Before 2013, large crawler cranes of more than 2,000 tons were wholly reliant on import, and the price and after-sales service were subject to foreign countries, which also hindered the progress of projects.
At that time, the largest lifting capacity of crawler cranes in the world was 4,000 tons. Sun Li, with years of experience in the research and development of crawler cranes, resolutely carried out this task.
Eventually, after three years of hard study, the 4,000-ton crawler crane successfully completed its debut trail in Yantai, east China's Shandong Province, which achieved a new breakthrough in R&D and manufacturing in China's super large tonnage crawler crane field.
Furthermore, the multi-purpose crane she invented was the first of its type ever seen in the world, which also put China's crane design technology in the world's leading rank and improved the international image of China in the industry, whilst it promoted the development speed of large-scale construction across the world.
"I am grateful to my colleagues and leaders for their help and support. Furthermore, I would also like to thank the company for giving me the opportunities and stage," Sun said.
Sun Li works in her office. [china.com.cn]
(Source: China.com.cn/Translated and edited by Women of China)