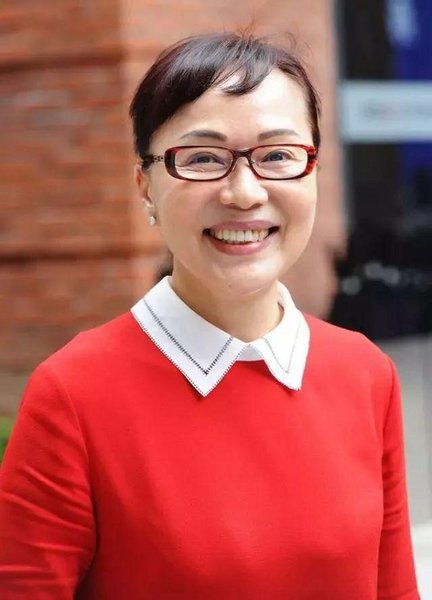 Hu Aidi [jianghan.gov.cn]
A female entrepreneur from Wuhan, capital city of central China's Hubei Province, has set a positive example for others over the past three decades by developing several companies through step-by-step innovation.
Hu Aidi is vice president of Hubei Entrepreneurs Joint Development Promotion Association and chairman of Aidi Group, a large-scale knitwear manufacturer.
Hu was previously employed in the 1980s in a knitting mill in Wuhan, where she started as her work by serving as a typist and later became secretary of the local Communist Youth League Committee. With a keen ability to reflect on the development orientation of the market, she set up the knitting wholesale department of Wuhan in 1989 and operated the business by acting as its main salesperson, which earned her the first sum of big money in life.
Five years later, she rented a factory, bought equipment, and established a knitwear processing base called Aidi.
After 10 years of growth, Aidi has become a key home textiles brand and a national-level model enterprise.
In 1998, amidst doubts from colleagues, friends and relatives, through capital accumulation, bank loans and other funds, Hu imported world-class equipment from Germany, Japan, Italy and other advanced countries for use by her company, and invested over 100 million yuan to build the Aidi Industrial Park.
The park formed a leading production line integrating weaving, dyeing and sewing in China at the time.
The enterprise began to develop its overseas market in 2001 and gradually exported to 35 countries including those in Europe and North America.
In 2014, Hu decided to invest in the Aidi Fashion Creative Industry Park to enable her enterprise's transformation and upgrade and accelerate structural adjustments so as to create a modern manufacturing base integrating product development, marketing display, manufacturing and logistics.
"We worked hard but we couldn't do it smartly before the utilization of big data," Hu said. "Now we have achieved the precise management of production through accurate data analysis."
The establishment of the industrial park has allowed Aidi Group to benefit from IT and digitization, greatly enhancing its market response capability and core competitiveness.
Thanks to intelligent manufacturing, the new product output rate of Hu's company has reached well over 50 percent.
By the end of 2017, Aidi has participated in the setting and revision of 11 national and industry standards and has thus far obtained no less than 89 patents.
During its enterprise development, Hu also thought about how to transform and upgrade traditional civil business, so as to refresh the clothing industry.
In 2016, again in spite of all opposition and discouragement, she invested a total of 320 million yuan in establishing a cultural and creative industry base called "Red T Fashion Creative Street" based on the theme of "Fashion Design and Innovation", transforming 70,000 square meters of an old factory building.
The base now offers many extras such as an incubation platform for designers that provides professional technique services and apartments for the staff.
The number of innovative enterprises in the park has reached 50, with around 100 further small and micro enterprises using its services, said Hu in the interview.
The park has also helped around 3,000 entrepreneurs and 10,000 employees to innovate.
In recognition, the base has been awarded the title of National Textile and Apparel Creative Design Demonstration Park by the Ministry of Industry and Information Technology.
Hu said that she has enjoyed the fun of starting up businesses during the process of pursuing innovation, and hopes that female entrepreneurs can improve themselves by learning and make great contributions to the development of the world.
(Source: paper.cnwomen.com.cn/ Translated and edited by Women of China)