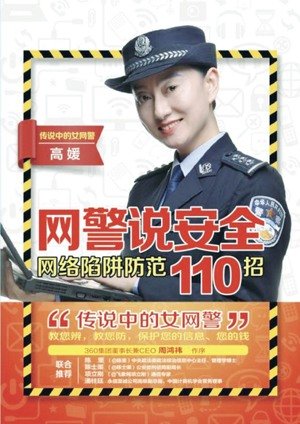 Gao Yuan [China Women's News]
A net policewoman from Beijing has attracted over 2.32 million followers on Weibo, China's Twitter equivalent, after serving people on the app for about six years.
Gao Yuan, born in the 1980s, registered her Weibo account in early 2011 when most people were unfamiliar with her posts.
"At that time, online security was a newly emerging term, making ordinary people think it had nothing to do with them," Gao said.
She started to update her Weibo by posting festive greetings and sharing her daily experiences, leaving a friendly impression on netizens.
With the number of her followers growing, Gao often received questions related to internet security from netizens. She answered them in detail.
The policewoman gradually found that Weibo was a good platform to help others.
With the backing of Beijing Public Security Bureau and her leaders at a Beijing-based internet security team, she applied for real-name authentication and publicized her personal information on the app.
"I only did that to increase my credibility and better serve netizens," Gao said.
She then carried out several major investigations into internet cases that had taken place in recent years. The findings made her realize that most netizens were lacking precautionary awareness.
With regard to this, she exposed various internet cases on Weibo to remind netizens of the importance of guarding against online fraud. The number of views of some of her posts has reached into the millions.
In December 2017, Gao published her book 110 Tips on Guarding Against Internet Traps from the Net Police, aiming to boost the online security awareness of the general public.
Besides working as a policewoman, Gao also serves as the part-time vice-president of the Beijing Women's Federation (BWF).
"Working at the BWF gives me a new platform to serve people," she said.
"Now, I am working with my colleagues to expand the influence of the organization by using the influence of female online celebrities," she added.
Gao has been awarded many honorary titles including Beijing's March 8th Red-Banner Pacesetter and Most Popular Beijing Net Police.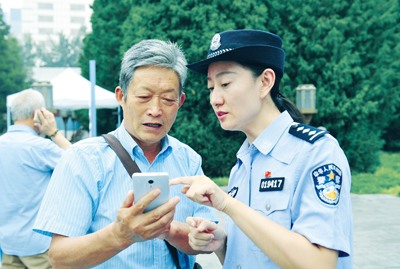 Gao Yuan offers assistance for an elderly man. [China Women's News]
(Source: China Women's News/Translated and edited by Women of China)