Vice-President of the All-China Women's Federation Zhen Yan proposes that the government gradually bring gender-equal retirement age into effect, taking into consideration the different rights and interests of women groups.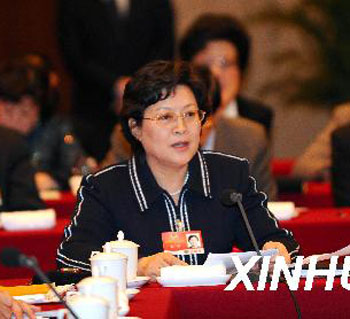 Zhen Yan is on the NPC and CPPCC sessions[xinhua.com]
Men and women's equal retirement age, as always, is a main topic at this year's Fourth Session of the 11th National People's Congress (NPC) and the Fourth Session of the 11th Chinese People's Political Consultative Conference (CPPCC) National Committee.
It has been a topic of main concern in all social sectors in recent years, and consequently figures largely among proposals that NPC and CPPCC deputies and members raise each year at the 'Two Sessions' as they are known.
No Extra Employment Pressure
Equal retirement age is a cause that professor Sun Xiaomei of the Women's Studies Department of China Women's University, and deputy to the National People's Congress, personally champions.
Sun told the reporter that the policy designating different retirement ages to men and women was originally intended to be of benefit to women. Since development of the market economy, however, it has become an excuse for sex discrimination in employment.

Vice-President of the All-China Women's Federation and NPC deputy Zhen Yan,holds that retiring five-to-ten years earlier puts women at a disadvantage with regards to training, career development, and promotion. This now obsolete policy hence restricts and impairs the career potential of women talents.
Certain commentators say that extending the retirement age for women would overburden the talents market, a view that Zhen Yan roundly refutes. She points out that there is no evidence to suggest that a later retirement age for women would worsen youth unemployment, moreover that creating job opportunities is the ultimate solution to employment pressure; also that improving the rate of employment at the expense of women's rights and interests is unjust.
Moreover, the problem of aging population is now a reality.'Taking into consideration growing life expectancy, extending the retirement age limit should become a trend,'is the view of NPC deputy and professor at Renmin University of China Zheng Gongcheng.
Horses for Courses
Zhen Yan holds that the government should gradually bring into effect gender-equal retirement age while simultaneously considering the rights and interests of different groups of women.
Zhen points out that there are different expectations of regulated retirement age among women's groups according to their respective rights and interests.
"It is an acknowledged fact that different social interest groups have different claims based on gender and hierarchy differentiation," Zhen said.
A survey by the Women's Studies Institute of China implies that most women intellectuals and cadres are in favor of the proposed policy of gender-equal retirement age, as compared to just half of the women workers surveyed. The survey also shows that that this option correlates with unit efficiency and personal income.
(Sources: Women of China)