The meeting on Saturday that marked the first anniversary of the founding of the Beijing China Social Welfare Association saw the launch of two special funds dedicated to helping seniors and orphaned and disabled children.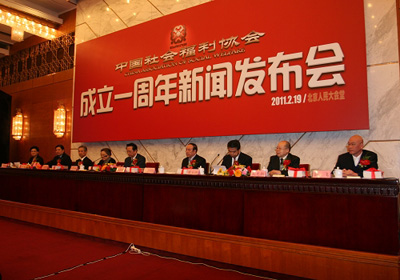 The first anniversary meeting last Saturday of the founding of the China Social Welfare Association in Beijing. [mca.gov.cn]
Artist Qin Yi was appointed ambassador to the special fund for helping senior citizens which will go towards providing services for the elderly. They include organizing foreign experts to carry out research on living conditions, renewed attention to rehabilitation and heath care, spiritual and cultural activities and standardization of pensions.
Former Chinese gymnast Sang Lan was appointed ambassador of the orphaned and disabled children rehabilitation fund. In her speech at the meeting Sang called on all social sectors to care for this vulnerable group of children. The fund will contribute to the costs of appointing special teachers to carry out rehabilitation training for disabled children through international cooperation.
(Source: mca.gov.cn / Translated by womenofchina.cn)