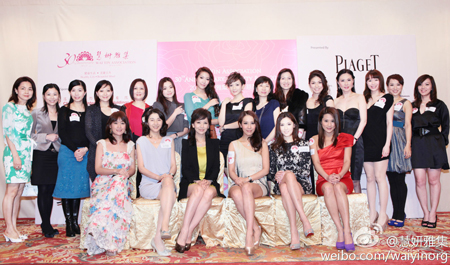 Members of the Wai Yin Association pose for a group photo at the association's 30th anniversary party in 2012. [weibo.com/waiyinorg]
Based in south China's Hong Kong Special Administrative Region, the Wai Yin Association is the world's first and only charity organization run by beauty pageant title-holders and finalists.
In 1980, a group of former Miss Hong Kong Beauty Pageant title-holders and finalists got together to discuss their mutual dream to improve the lives of Hong Kong's less fortunate.
In 1982, they established the Wai Yin Club, with Miss Hong Kong 1977 Loletta Chu becoming the founding and eternal honorary president.
In 1993, the local government of Hong Kong certified the club as the Wai Yin Association, a women's charity institute. Since then, the association has been committed to participating in various charity events and community services and promoting Hong Kong's cultural, arts and international image.
During the past few years, its charity events have benefited more than 100 recipients, NGOs, and individuals in Hong Kong, mainland China, Japan, Burma and other countries.
Currently, as many as 31 charity projects, inclusive of organizations, centers and schools, are named after the Wai Yin Association to honor its funding contributions, including two kindergartens in southwest China's Sichuan Province that were rebuilt after the 2008 Wenchuan Earthquake.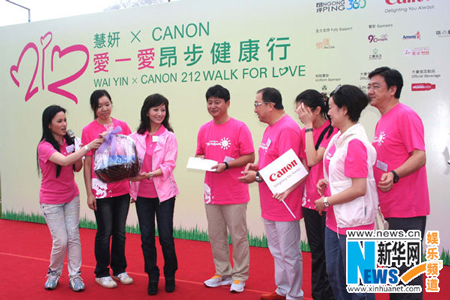 Angie Chiu (third left), former president of the Wai Yin Association, hands out prizes to winners of the 'Wai Yin and Canon 212 Walk for Love', a charity event to raise funds for a water project in northwest China's Gansu Province. [Xinhua]
The association was also honored with the 'Citation for Impact on the Community' award at the HKMA/TVB Awards for Marketing Excellence 2008, organized by the Hong Kong Management Association (HKMA) and sponsored by Television Broadcasts Limited (TVB), for its outstanding contributions to society.
In 2012, the association welcomed the 30th anniversary of its founding and selected 'health' as the year's charity theme.
Last year, it carried out two major campaigns: one to promote drug control and the other to donate mobile breathing apparatuses to children with congenital respiratory disease so that the children can live at home without compromising their treatment.
Thirty years of philanthropic legacy, unwavering commitment to charity as well as the experience and integrity of each Wai Yin member has made the Wai Yin Association one of the most highly regarded charity organizations in the world.
The Wai Yin Association has shown that despite differences in aspirations and goals, all sectors, private and public, can successfully work together for the greater good of society while sharing the common ideal of 'Making a difference for a better tomorrow'.
(Source: womenofchina.cn and waiyin.org.hk/Translated and edited by womenofchina.cn)