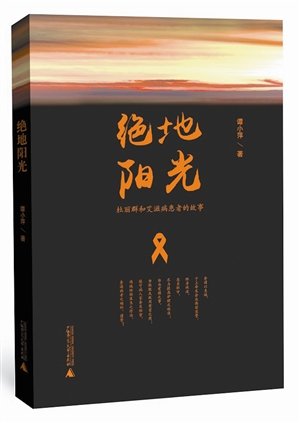 Sunshine in Despair: Stories of Du Liqun and Her AIDS Patients
Author: Tan Xiaoping
Publishing House: Guangxi Normal University Press
Publication Time: October 2014
Sunshine in Despair: Stories of Du Liqun and Her AIDS Patients tells the stories of Du Liqun, head of the nurses in the AIDS and infectious hepatitis department of Nanning No. 4 People's Hospital, in Nanning, capital city of South China's Guangxi Zhuang Autonomous Region. She has brought hope to patients who suffer from HIV/AIDS.
Du has provided care to patients with infectious diseases for more than 30 years.
The hospital established its AIDS department in 2005. At that time, few nurses were willing to work in the department. However, as a Party member, Du volunteered to work as the head of the nurses. Later many young nurses were inspired from her deeds and followed her to join the team.
The book tells the stories of Du, her team members and her patients who suffer from HIV/AIDS. A large number of patients gained dignity, confidence and a chance of life under the considerate care and treatment by Du and her team members.
Du has gained recognition and respect from the public due to her arduous efforts in contributing to the prevention and treatment of the disease. Du has received many titles and awards, including national the May 1st Labor Medal, the Florence Nightingale Medal, the Norman Bethune Medal, the Most Beautiful Doctor in China and the National March 8th Red-banner Pacesetter honored by the All-Chia Women's Federation.
The book's author, Tan Xiaoping, is a member of the Writers' Association of Guangxi Zhuang Autonomous Region and a member of the council of the Nanning Writers' Association.
Tan is a specialist in long-form reportage. In 2011, she published The Great Salvation of the Century — Lifelong Love of Kan Peitong and Songs of the Anti-Japanese War, a key project of the Chinese Writers' Association in 2008, Rong Yuanming, Famous Traditional Chinese Medicine Doctor in Guangxi, and Han Suyun: Good Military Spouse in the New Era. In 2013, she published a collection of personal essays — I Send Chenxi to Peking University.
(Women of China)