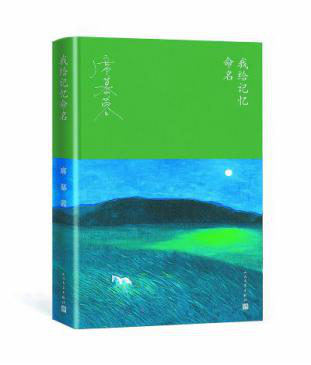 Xi Murong's new book [Beijing Daily]
Poet Xi Murong [Beijing Daily]
Famous Taiwan poet Xi Murong recently gave an exclusive interview to Beijing Daily on her new book, I Name the Memory, during a visit to Beijing.
The book picks up some of the moments kept in her diary when she was young. The 76-year-old poet uses a sensitive style to recall her memories about childhood, her father, her homeland and friendship.
At a very young age, Xi Murong deemed herself a spectator of the changes of her life. Even though she has gained fame for her poetry, she is still a bystander and onlooker despite her great reputation.
Xi began to keep a diary from the second year of junior middle school, when she moved from Hong Kong to Taiwan with her family. As a new comer, she had no friends and the diary became her only "friend" to talk with.
Afterwards, Xi went to study in Belgium. Her diaries were carefully collected, which is a good tradition of the Xi family.
She recalled that her mother would take out a basket and put in it the things that the children were unwilling to throw away. When Xi returned home, the collection was taken out and everything was still there.
"I left my diary, my elder sister left music scores and tapes, and my second elder sister left her diary too," Xi recalled.
Xi's original poems were also recorded in these diaries. She said that although writing poetry was an interest, her major business was painting.
Her poetry collection is popular but she has never stopped painting. "I like teaching. Teaching is not a burden for me. I like painting with young students," said Xi.
Xi said her new book was inspired by an international academic conference on Mongolian culture.
In June 2014, Xi attended the conference in her mother's hometown, Keshiketeng Grassland in North China's Inner Mongolia Autonomous Region, where she learned more about the culture her grandfather lived with from an academic paper by a professor from Inner Mongolia University.
In fact, she once went back to her hometown and had lived there for five years, trying to find and communicate with herders to better understand local culture, but only to find the Mongolian culture she knew was nowhere near enough.
The first time she went to her grassland hometown was about 30 years ago. She thought what the literati have written about the grassland is just a "translation" of nature; nature itself is the "original."
(Source: Beijing Daily/ Translated and edited by Women of China)