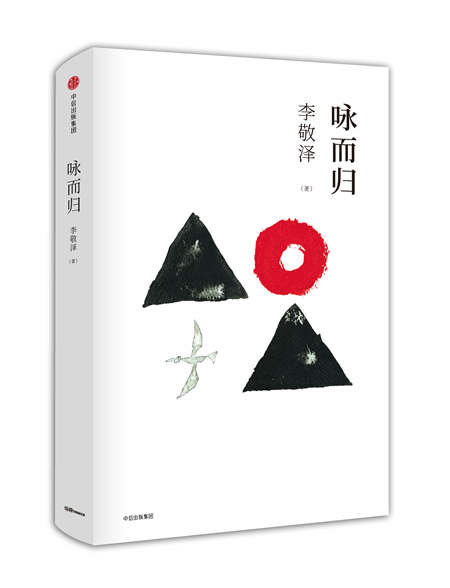 Literary critic Li Jingze's latest book 'Yong Er Gui' draws a lot from Confucius' teachings and times. [China Daily]
Confucius once asked his students: "What is your ideal life?"
Some said they wanted to help run the country. Others said they wanted to educate people on morality.
A student named Zeng Xi said: "My ideal life is to go with friends and helpers to swim in the rivers outside the city in spring. And after swimming, we, in our wet clothes, will go up to the Wuyu Tai (an elevated place in the open once used for worship and later converted into a venue where Confucius and his students met). After the gentle breeze dries our clothes, we will return, humming verses."
Compared with what others said, this student's comment seemed trivial, but Confucius nodded and said: "It's my ideal life, too."
This is how Chinese literary critic Li Jingze explains the meaning of the title of his new book, Yong Er Gui (Humming and Returning).
The recently published book is a collection of 55 essays in which Li tries to "sit down and chat over drinks with ancient China's literary masters, such as Confucius, Mencius, Qu Yuan and Si Maqian, and with later writers like Cao Xueqin". He also talks about his understanding of Buddhist texts, his library, drinking and other leisure activities.
"Reading classics does not necessarily require one to be very academic or serious. The books can be relaxing," says Li, 53.
"While we read books by ancient people, we should try to communicate with them not only in awe but also to converse with them as equals, to understand and feel their greatness, wisdom and difficulties.
"In classics, we can learn about how people in ancient times made important decisions about their lives, how they understood the meaning of life and how interesting their lives were, so that we, modern people, know how to understand and live our lives, to find a home for our wandering souls."
In writing the essays, Li has created a new style, a mix of personal thinking and conversations-casual, relaxing and funny-as if he was thinking aloud or talking to a good friend.
From his personal perspective, Li tells us about events from The Analects of Confucius, Records of the Grand Historian and other classics. He also gives the happenings a modern context to create conversations with ancient figures, says Xie Youshun, a professor of Chinese literature at Sun Yat-sen University in Guangzhou, Guangdong province.
"We can see that ancient Chinese lived a high-spirited and vigorous life. They were brave and open-minded, unlike how we live today in a commercial society."
Li compared Chinese tradition to a big river that has continued to flow for more than 2,000 years.
In the first essay of the book, Li talks about the "key moment of the Chinese spirit" and sets the tone for the whole book that talks about the Chinese spirit throughout history.
In 489 BC, Confucius and his students had starved for seven days due to a war between two states. One student, Zai Yu, blacked out and the others became very weak. But Confucius was still playing a stringed instrument and singing loudly.
Outside the house where he was, two of his students-Zi Lu who was originally a warrior, and Zi Gong, who was originally a businessman-complained: "A lack of money, power or fame can force one to kill himself but he is still singing."
Another student, Yan Hui, heard them and told Confucius what they had said. The old master was angry. He called the two in and taught them a lesson.
Li writes that Zi Lu and Zi Gong were just like people today. Their understanding of life was: If truth taught by the master cannot be converted into earthly success, it is worthless.
"But Confucius told them solemnly and decisively: 'Truth is truth. The meaning of life is to learn about truth and act according to its requirement'," Li writes.
"This is the key moment of the Chinese spirit, the key moment of our civilization. Just like Socrates and Jesus Christ, Confucius' response to such an ordeal showed his sublime teaching."
(Source: China Daily)