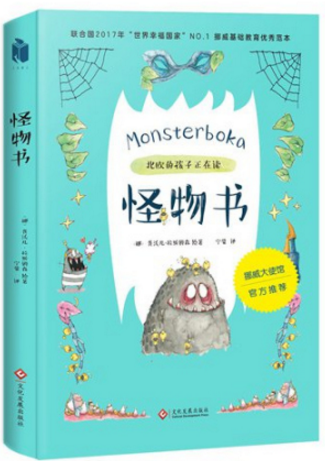 The Chinese edition of Monsterboka [Courtesy of Beijing Xiron Books Co, Ltd]
Square fringes, blonde hair, Harry Potter glasses and a "Hogwarts" shirt, Norwegian illustrator Gunvor Rasmussen looks just like a member of J.K. Rowling's magic world - and, in a way, she is one.
Currently the principal and Care of Magical Creatures teacher at the Norwegian Wizarding Academy - a community of Harry Potter fans set up by Rasmussen and her friends in Bergen, the 36-year-old prize-winning illustrator appeared at a book-sharing event in Beijing on Friday to talk with Chinese readers about topics ranging from belief in magic to education, as well as the Chinese version of her illustrated children's book Monsterboka, which was published by Beijing Xiron Books Co, Ltd in August.
Land of legends
For many Chinese readers, their impression of Norway is "an icy place of peace and beauty." However, Rasmussen was quick to alleviate them of this impression: "The temperature can get very high," she joked.
Home to legends about colossal sea creatures like the Kraken and powerful, ugly-faced trolls - one of the best-known natural spirits that are believed to live in the mountains - Norway plays a big part in Scandinavian folk stories and culture.
Traditional stories in Northern Europe are often violent and dark and it affects people's minds as well as the books and artwork that became popular, Rasmussen said.
"The most popular painting from Norway, The Scream by Edvard Munch, is introverted and painful; and it is suggested that geography and demography affect people," she noted. "In places where it is very calm and organized, maybe people need to express themselves more."
The unsettling little fanged monsters she created in Monsterboka also reflect her state of mind after growing up in Norway, Rasmussen said.
Breaking stereotypes
Although Rasmussen admits that tales of monsters have had a huge impact on her, the characters in her book are not carbon copies of creatures that have appeared in folk tales.
"I am taking the culture that I grew up with, but I am adding new creatures to the stories," she said at the event.
For instance, a troll character that she illustrated in Sagnet Om Trollveggen, a fairytale about a "Romeo and Juliet" type romance that takes place in the mountains of Romsdalen in Norway, sparked anger among Norwegian readers when the book came out in 2012, since her drawings were very different from traditional portrayals of trolls as powerful creatures who were afraid of the sun.
Moreover, Rosa, a pink-clad girl in Rasmussen's Fantasiboka, is another of the author's attempts to defy social stereotypes in Norway.
"Now in Norway, it is a thing that girls shouldn't wear pink because that makes them [look] less tough," said Rasmussen. "So I made a problem for the critics - I created an almost completely pink character, but she is also a soldier."
"It's not the way you dress that decides who you are," she concluded.
Rasmussen explained that, in a way, the character is a self-portrait of her, as well as many other illustrators. In the story, Rosa wants to track down a unicorn dragon, which many people say doesn't exist.
"But she manages to find one and tame it, which is kind of the life story of many illustrators - you're doing something that people say 'it's not real,' 'it doesn't exist,' 'this is not gonna happen,' and then it does," she said, smiling.
Secret to happiness
Rasmussen emphasized that Monsterboka is a product of cooperation as it features 20 stories written by Norwegian children's literature writers. After the book's editor established a theme and found the right authors to write stories according to this theme, Rasmussen was brought in to draw the illustrations.
The book has become very popular among elementary school teachers in Norway. Chinese parents and educators present at the event on Friday were curious to find out what made the book so appealing to people in Norway, which the UN crowned the No.1 happiest country in the world in this year's World Happiness Report.
"It's a tough question to answer, but it is about the idea that if you're allowed to be noisy and monstrous, you'll be much happier," said the illustrator. "Because tolerance for behaving expressively is very important and I think maybe that's why it [Monsterboka] works."
The same philosophy is applied at Rasmussen's "magic school" where students range from 10 to 16, and any adult with special talents or an interesting trade is allowed to teach here.
"We have taught students things that they don't learn at school, like Runes, an old Norwegian written language, and Lok, which is a way of singing to summon herds from the mountains," she explained.
Aside from being "the best creativity course you could possibly have," Rasmussen pointed out that the school is also "an area for adults to play," as it is a place where even ordinary office workers can find an unconventional part-time job.
She mentioned that one of her friends who works for Norway's Ministry of Finance also volunteers at the school during his free time.
"He summons beasts in his class," Rasmussen said, laughing.
"Magic school is a good place not to lose your magic," she said.
(Source: Global Times)