Cover of the book 'History of Taiwan Feminine Literature' [jd.com]
A new book, which maps out the historical lineage of Taiwan women's literature spanning from ancient times to the early 21st century, was launched at the 11th Cross-Strait Book Fair held in Xiamen, a coastal city in southeast China's Fujian Province, on September 12.
The book titled "History of Taiwan Feminine Literature", consists of nearly a million characters. It deftly portrays the origin, development and evolution of the distinctive South Asian literary arena.
Publishing insiders recognize that the book is the first on the Chinese mainland to feature such a long time span of Taiwanese literature studies, filling a notable gap in the history of Chinese literature, and of women's literature worldwide.
Since the 1920s, research on mainland women's literature has made remarkable progress. The history of Taiwanese women's literature, however, has been "off the beaten track", which definitely impacted its status.
The book, edited by Professor Lin Danya from the College of Humanities of Xiamen University, is divided into two parts: The first covers the Taiwanese women's literature from ancient times to 1945, marking the recovery of Taiwan from the Japanese rule (1895-1945); the second focuses on literature from 1945 to the early 21st century, whose most basic feature lies in using modern Chinese language against a modern context.
"The historical book explores Taiwanese women's literature and compares it with the Chinese mainland literature in a bid to unveil a common root of the cultures across the Taiwan Strait in the field of gender studies," said Lin.
"Meanwhile, the book breaks a bottleneck in mainstream studies on literary history, and taps into female writing from ancient times to the recovery of Taiwan," added she.
By sorting through the folk literature of Taiwanese aboriginal tribes and works of women who followed their family to move from the mainland to Taiwan since the time of Zheng Chenggong (1624-1662) (the famous Chinese military leader), recovered Taiwan from the Dutch colonists in 1662, the book digs out female literature buried in the ashes of history and presents the elements of a female culture which has been kept in the shade, noted Lin.
"Taiwanese literature, as an important part of Chinese literature, is in essence a regional pattern of Chinese literature and shares a literary tradition stretching to Taiwan," said Jiang Dongming, president of the book's publisher Xiamen University Press.
The historical review of Taiwan women's literature can clearly show its shared roots. It bears the mutual influence of a rich cross-strait cultural vein and will help promote the sound development of cross-strait relations, he added.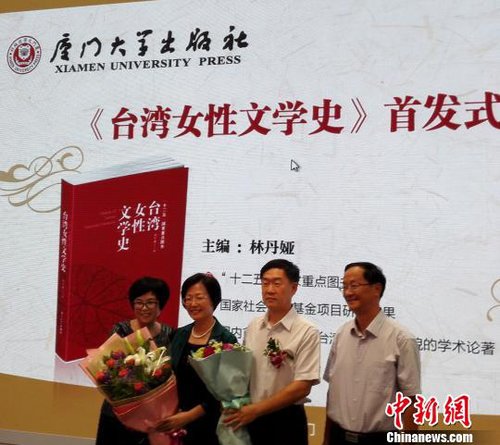 The launch of 'History of Taiwan Feminine Literature' [Chinanews.com/Yang Fushan]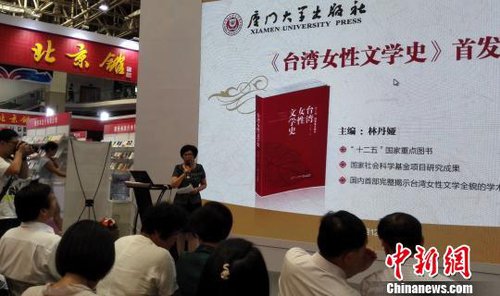 Professor Lin Danya, chief-editor of 'History of Taiwan Feminine Literature', introduced the book at its launch. [Chinanews.com/Yang Fushan]
(Source: Chinanews.com/Translated and edited by Women of China)