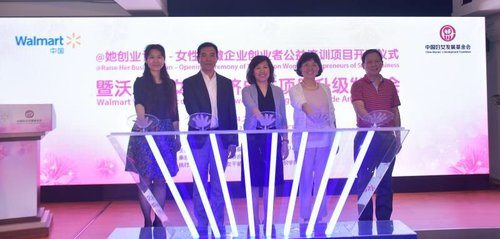 Walmart and CWDF officials at the launch ceremony of the training session [CWDF]
Walmart China will partner with the China Women's Development Foundation (CWDF) in the all-round upgrading of its women's economic empowerment program, announced the discount giant on April 25.
Meanwhile, the first public welfare training session designed to enhance the capabilities of female small-business owners was held simultaneously in Guangzhou, capital of south China's Guangdong Province.
The upgraded program will combine social hot spots such as targeted poverty relief, innovation and entrepreneurship to help solve problems confronting impoverished rural women, female employees and female small-business owners.
Since the Walmart Women's Development Fund was established in 2010, Walmart has received 9.5 million yuan (U.S.$ 1,378,809) in returns through investment in its Revolving Fund for Mothers' New Ventures Program.
Through CWDF's @Raise Her Business Plan, Walmart will donate the money and another 1 million yuan (U.S.$ 145,137) to support women's economic empowerment programs.
"Walmart is one of the sponsors of @Raise Her Business Plan and a participant of the Revolving Fund for Mothers' New Ventures Program," said Zhang Jianmin, deputy secretary-general of the CWDF.
"This program's upgrading agrees with the current trend of public innovation and entrepreneurship, considers working women's situation under China's universal two-child policy and empowers women from three dimensions including women's leadership, working women's assistance and impoverished women's poverty relief."
The training activity held on that day was also available online to better promote women's employment and entrepreneurship.
Walmart will continue its Revolving Fund for Mothers' New Ventures Program to help lift poverty-stricken rural women and their families out of poverty.
In addition, it plans to launch a survey this June into the state of working mothers in the country's first-tier cities. According to the problems to be indicated by the survey, it will solicit solutions publicly and subsidize innovative projects to solve the worries of these working women.
As one of the three major aspects of Walmart's enterprise social responsibility strategies, women's economic empowerment aims to give full play to Walmart's extensive supply chain network and provide women with more development opportunities.
From 2010 to late 2016, Walmart contributed over 91 million yuan (U.S.$ 13,207,547) altogether to promote women's economic empowerment in China benefiting over 170,000 people, data shows.
CWDF officials present certificates to Walmart representatives. [CWDF]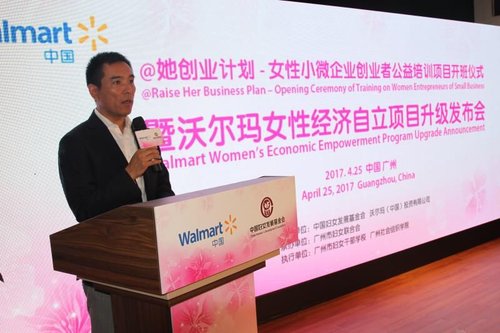 A Walmart official speaks at the event. [CWDF]
Attendees at the event [CWDF]
(Source: CWDF/Translated and edited by Women of China)