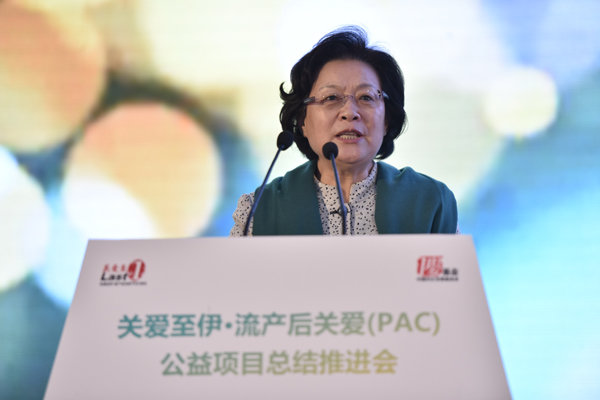 Zhen Yan speaks at the event. [yiaijijin.org.cn]
Organizers of the Post Abortion Care (PAC) project celebrated the welfare project's fifth anniversary at an event in Beijing on January 15, aimed at promoting high-quality medical care across the nation for those who have miscarried or had an abortion.
In a summary of its achievements so far, organizers reported that the project has benefited around 6 million women; established relevant PAC clinics among 688 nationwide medical institutions; and offered specific PAC trainings to more than 4,000 medical staff.
The scheme was jointly initiated in 2011 by the China Women's Development Foundation (CWDF), the newspaper People's Daily, the Family Planning Branch of the Chinese Medial Association (CMA), and the Department of Health Science, Technology and Education under the National Health and Family Planning Commission.
The initiative was also supported by the Yi'ai Fund and set up by the Bayer Healthcare Corporation.
PAC's major activities include promoting standardized procedures across hospitals and clinics, as well as offering specialized knowledge in terms of contraception, reproductive healthcare and other topics, said a spokesperson.
It is hoped the initiative can help lower the rates of induced and repeated abortion and improve women's healthcare standards, added the spokesperson.
"China's Health Guideline for 2030 has attached great importance to the issue," said Zhen Yan, vice-director of the Subcommittee of Social and Legal Affairs under the Chinese People's Political Consultative Conference (CPPCC), and vice-president of the CWDF.
"Women are encouraged to reduce the rate of their unwanted pregnancies. Moreover, it is expected that a long-term mechanism to protect female fertility will be established in the future," added Zhen.
(Source: China Women's News/Translated and edited by Women of China)