Having worked for the global charity organization the Young Men's Christian Association (YMCA) for over 20 years, John Alvarez, set up in 2004 his own non-profit NGO, Manos International, by hiring volunteer teachers and collecting donations worldwide to provide children aged four to 18 worldwide education assistance such as learning English, cultural education, exchanges, summer camps and sports events. The program was first launched in Mexico, to help around 20 impoverished children.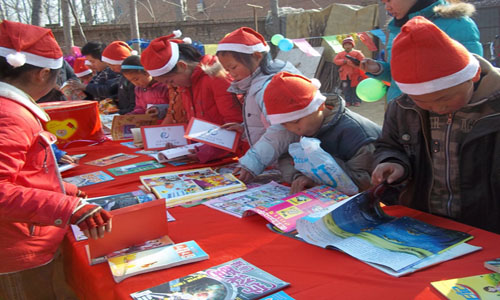 Books donated from city kids [Courtesy to Manos International]

In 2005 John, who was born in Miami, and his wife Belinda Wells came to Shijiazhuang, capital of north China's Hebei Province to participate in a three-month education program as foreign teachers and were invited to experience the traditional Chinese New Year in Zhuangtou Village. John and Belinda were the first foreigners ever to visit the village. They were touched by the quiet and simple lifestyle and the villagers' hospitality, and decided to base their education assistance program in Hebei.

Their first activity in China, a summer camp with the theme "Towards the World", was held at the Zhuangtou Primary School starting on May 1, 2005. The five-day camp aimed to help the children understand the cultures of China, Vietnam, Mexico, Cuba and the U.S., where Manos runs educational assistance programs, through representations and interactive activities. These activities have broadened the children's horizons and helped them understand the world better.
Volunteer teaching Christmas songs [Courtesy to Manos International]

Later Manos International carried out programs successively in another five middle and primary schools in Tangxian, Pingshan and Gaocheng. They and nearly 30 foreign teachers from around the world gave children lessons in English and culture lessons and introduced them to different countries' backgrounds, food and music.

At Christmas, volunteers dressed as Santa Claus traveled from Zhuangtou to Zhoujiazhuang and gave out presents along the way. They sang and danced with the children and brought happiness to the elderly as well.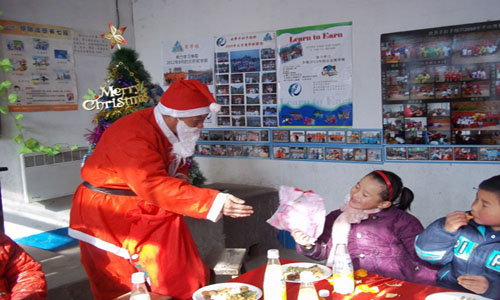 Santa in Pingshan [Courtesy to Manos International]
Please understand that womenofchina.cn,a non-profit, information-communication website, cannot reach every writer before using articles and images. For copyright issues, please contact us by emailing: website@womenofchina.cn. The articles published and opinions expressed on this website represent the opinions of writers and are not necessarily shared by womenofchina.cn.