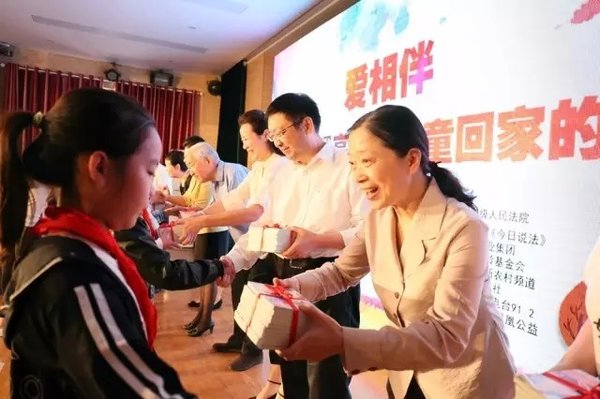 Attending officials present cartoon publications about legal regulations to representatives of rural 'left-behind' children at the ceremony. [women-voice-resource.oth.web.sdp.101.com]
A campaign to increase the legal knowledge of rural "left-behind" children (those whose parents have left them to find better employment in far-off cities) and care for them in the absence of parental affection was officially launched by Henan Higher People's Court at an elementary school in Zhengzhou, capital city of central China's Henan Province, on September 21.
During the launch ceremony, a video was broadcast showing the lives of local "left-behind" children and revealing their longing for parental love. Organizers also invited Sun Xuemei, a representative of a private fund for the protection of girls' rights, to talk about how to help teens better protect themselves from sexual harassment and other injuries.
In addition, a series of cartoons about legal regulations were distributed amongst teen participants at the event. Furthermore, four representatives of local "left-behind" children presented their recitation of Salut d'Amour to convey their thanks to charity-minded organizations and individuals for their kindness and engagement in the improvement of their lives.
It is the fifth year that Henan Higher People's Court has organized such a campaign for the interests of local rural 'left-behind' children, whose number totals 6.5 million and accounts for about 10% of the national figure. Many activities, which range from offering of legal assistance and psychological counseling to the organization of training sessions and mock courts, and the compilation of files, have been held to track the growth of target children and improve their lives.
"The pains and tragedies of rural 'left-behind' children are closely related to those of their families and the whole nation. The public are thus urged to show more care and love to those underprivileged children, provide them with access to legal education and protection, and make joint efforts to ensure their healthy growth," said Zhang Liyong, head of Henan Higher People's Court, at the opening ceremony.
This year, a total of 158 special courts have been set up in Henan to trial cases connected with delinquent juveniles and better protect their interests as well as privacy. According to Henan Higher People's Court, more institutional efforts will be undertaken in the future to speedily deal with cases involving rural 'left-behind' children.
Those present at the launch ceremony included officials from Henan Women's Federation, Henan Education Department, Henan Daily Press Group and other local government departments, who assisted the campaign.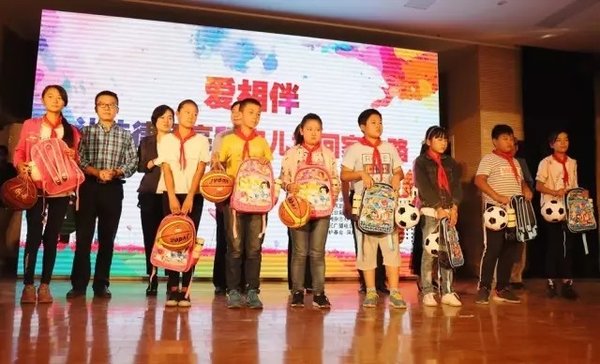 Representatives of rural 'left-behind' children receive their share of donated schoolbags at the ceremony. [women-voice-resource.oth.web.sdp.101.com]
Several actors give a performance with an emphasis upon the lives of rural 'left-behind' children at the ceremony. [women-voice-resource.oth.web.sdp.101.com]
Four representatives of rural "left-behind" children present their recitation of Salut d'Amour at the ceremony. [women-voice-resource.oth.web.sdp.101.com]
Teen participants watch a performance at the ceremony. [women-voice-resource.oth.web.sdp.101.com]
A female worker distributes legal publications amongst rural "left-behind" children at a campus. [women-voice-resource.oth.web.sdp.101.com]
(Source: women-voice-resource.oth.web.sdp.101.com/ Translated and Edited by Women of China)