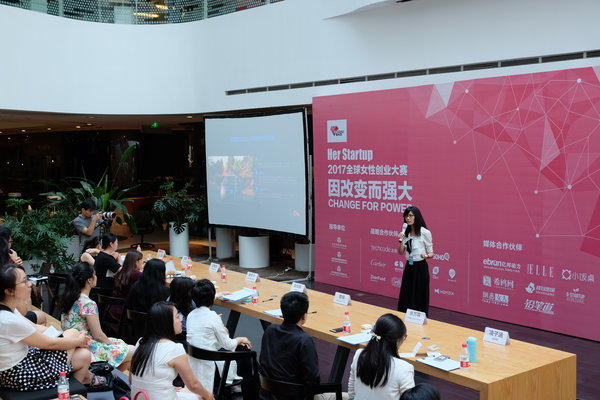 A participant speaks at the final round of the competition. [Women of China/Zhang Yuan]
Beijing Women's Federation held the final round of an international competition for female entrepreneurs in the capital on July 8.
The Her Startup International Female Entrepreneurs Competition was jointly organized by TechBase, an accelerator for female startups, and Beijing Women's International Exchange Center.
The competition first started in the city in 2015. It has since helped a total of 24 startup programs gain 80 million yuan (U.S.$ 11.7 million) in financing.
More than 200 people participated in the event, including those from startup teams, famous investment institutions, media organizations and business-founders. All are engaged in providing female-related products or services.
Also at the event were representatives who are interested in startups across the city.
According to organizers, 10 entries competed in the final round out of a total of 80, covering areas such as artificial intelligence (AI), imaging, tourism and big data.
Entrants highlighted the use of the internet in their programs, and displayed their unique perspective and unlimited potential in the field of science and technology entrepreneurship, organizers said.
In the final national round, the panel of judges consisted of Zhang Ningyu from China Elite Capital; Chen Ying, director of Techcode; Wang Xiaohong, president of Hearst Magazine China; and, Zhang Xiaoyu, public and communications director of Cartier China.
Organizers reported that this year's entrepreneurs are more advanced in the fields of science and technology and have made a clearer elaboration on startup schemes than in previous competitions.
Video service platform CATCH and Internet design platform Designup won first and second places at the event, respectively. The two teams will be sent to compete in the international finals to be held in Silicon Valley in the U.S. in September.
Meanwhile, all entries will be put forward for the 2018 Cartier Women's Initiative Awards.
Zhao Haiying, vice-president of the federation, attended the event and delivered a speech. She noted that the federation is dedicated to pooling resources for women entrepreneurs to realize their dreams and help them grow up in the course of creating social value.
In addition, the federation has vowed to continue its efforts to combine domestic and overseas resources to help women entrepreneurs create better lives by virtue of their wisdom.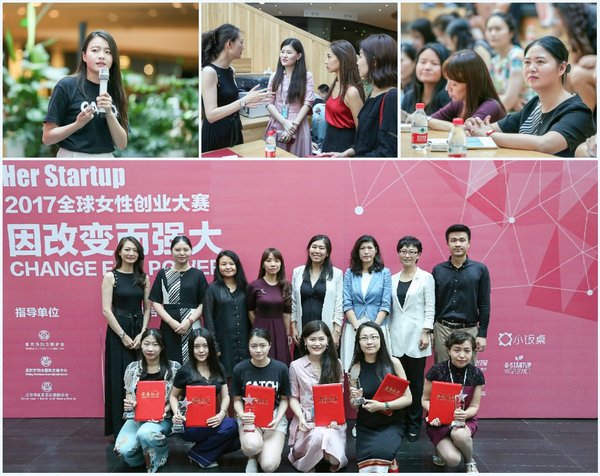 Attendees at the final round of the 3rd Her Startup International Female Entrepreneurs Competition [Women of China/Zhang Yuan]
Attendees at the final round of the 3rd Her Startup International Female Entrepreneurs Competition [Women of China/Zhang Yuan]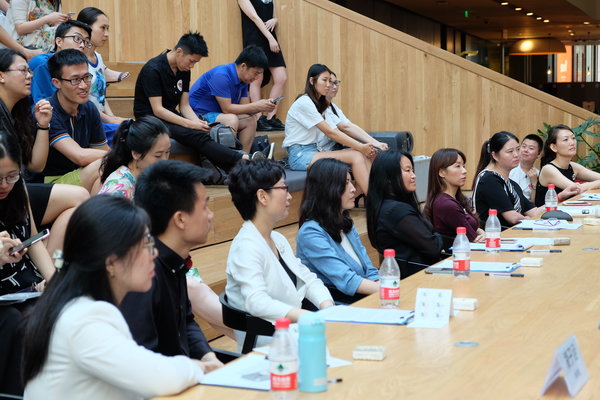 Attendees at the final round of the 3rd Her Startup International Female Entrepreneurs Competition [Women of China/Zhang Yuan]