Leaders from the China Banking Association and the All-China Women's Federation present the Micro-Entrepreneurship Award to the outstanding business founders. [Women of China/Zhang Ping]
Yao Xiaoyun, a female founder of a kindergarten in a rural Chinese area, was honored with the nation's annual Micro-Entrepreneurship Award on November 29 in Beijing.
Established in 2005, the annual China Banking Association-Citi Micro-Entrepreneurship Awards is aimed at rewarding outstanding business founders as well as agencies engaged in small loans.
This year, the awards, divided into college graduates, returned migrant workers, youth, women entrepreneurs and micro-entrepreneurship categories, recognized 42 outstanding individuals in total.
Huang Runzhong, secretary-general of the China Banking Association, said that the association has attached much importance to promoting the "Mass Entrepreneurship and Innovation" scheme, which was put forward by Chinese Premier Li Keqiang at the Summer Davos Forum in 2014.
Meanwhile, Huang added that the association would push for more efforts to support the small loans project, to help impoverished and disadvantaged people across the country and advance its economic development in the future.
In addition, at the awards event, Yao Xiaoyun, the winner of the Micro-Entrepreneurship Award, shared her entrepreneurship story.
In 2002, Yao revealed that she began setting up her kindergarten, which could only accommodate dozens of young children under its humble circumstances. In the following years, Yao added that she used the small loan project to improve the teaching facilities and other aspects of her kindergarten.
So far, she has participated in the project for seven years.
With her great endeavors, her kindergarten has become the top one providing childcare education and services in the whole town and it can accommodate hundreds of young children now and has 10 teachers employed there, Yao said.
At the same time, Yao has given a helping hand to students from poverty-stricken families or those whose families have suffered a major accident in the past few years.
Those in attendance at the awards ceremony included leaders from the Department for Women's Development of the All-China Women's Development (ACWF); China Banking Association; Rural Development Institute of the Chinese Academy of Social Sciences; China Foundation for Poverty Alleviation; China International Center for Economic and Technical Exchanges; and, the China Association of Microfinance.
Hundreds of representatives from local governments in different parts of the country and non-profit microfinance institutions as well as researchers of relevant industries also took part in the activity.
Five women deliver a performance at the awards ceremony. [Women of China/Zhang Ping]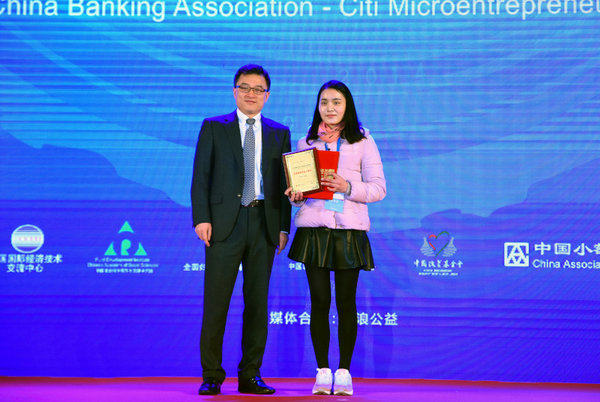 Yao Xiaoyun (R) is honored with the nation's annual Micro-Entrepreneurship Award at the event. [Women of China/Zhang Ping]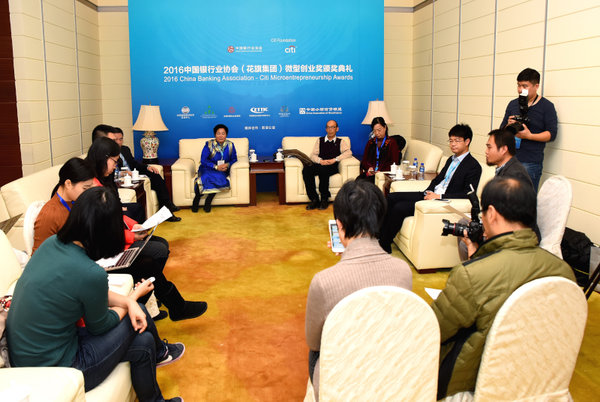 Sponsors of the event and winning representatives give a media interview. [Women of China/Zhang Ping]
Attendees at the awards ceremony. [Women of China/Zhang Ping]