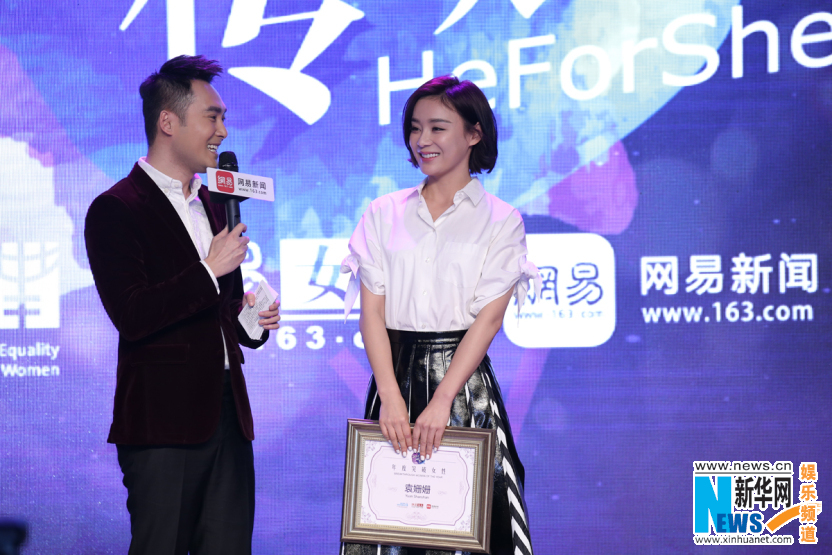 Actress Mable Yuan receives a Woman with Breakthrough of the Year award for her courage and efforts at combating cyber-bullying. [Xinhua]
The 2015 Women's Media Award announced this year's winners in recognition of their outstanding performance and work to promote gender equality, in Beijing earlier this month.
Among those honored as People of the Year included local celebrities such as Yuan Li, Chen Jianbin, Ruby Lin, Feng Shaofeng and Mabel Yuan.
Noticeably, this year, organizers and participants called on men to proactively promote gender equality in society and respect women's rights.
The Role Models of the Year awards went to 10 outstanding women who have made impressive contributions in their life and work.
Actress Yuan Li won an award for her volunteering to help rural residents affiliated by pneumoconiosis, an occupational, restrictive lung disease caused by the inhalation of dust, often in mines.
Other roles models included publisher Liu Ruilin, transsexual-rights promoter Liu Ting, rural community official Duan Aiping, poet Yu Xiuhua, young startup business owner Zhao Hailing, volleyball player Zeng Chunlei, citizen Deng Yingxiang, who paved her mountainous village, and blue collar worker Jiang Yan.
Ruby Lin, a Taiwan-based actress and producer, was granted the Influential Woman of the Year award, while Mable Yuan received the Woman with Breakthrough of the Year award for her courage and efforts to combat cyber-bullying.
The Women's Media Award was launched in 2010 by NetEase, a China-based Internet technology company, and is jointly hosted by the United Nations Entity for Gender Equality and the Empowerment of Women (UN Women).
The winners stood out after screenings by online voting and a jury consisting of sociologist Li Yinhe, Professor of China Women's University Liu Bohong, UN Women officials, media experts and scholars.
(Source: Xinhua/Translated and edited by Women of China)