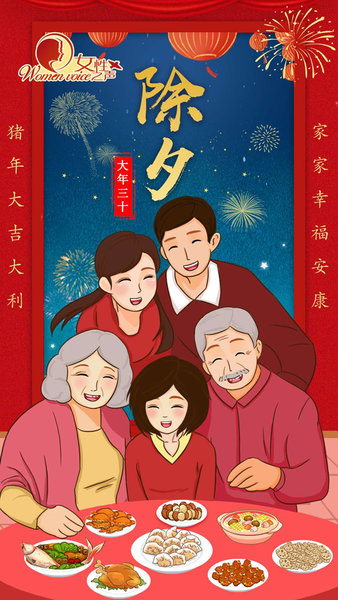 Chuxi, the Spring Festival Eve [Women Voice]
The Spring Festival, or the Chinese Lunar New Year, falls on February 5 this year. The Spring Festival Eve is regarded as the most important day for family reunion throughout the year. Children who work or study outside the hometown, return home to celebrate the festival with their family.
The whole family enjoys a big feast at night while watching the Spring Festival gala. They stay up late and wait to ring in the New Year. A must-eat food is dumplings. Elders give kids red packets, or red envelopes, with cash in them.
In the days between 28th and 30th of La Yue, the twelfth lunar month, people also put on couplets on the gates, paper-cutting decorations on the windows, and New Year pictures on the walls of their homes to express their best wishes.
The Spring Festival is also celebrated by people around the world. Let's see the celebrations in some countries.
People visit the Chinese New Year Lantern Festival at Dong Zen Temple in Jenjarom of Malaysia, Jan. 31, 2019. The Lantern Festival will run until Feb. 19. [Xinhua/Chong Voon Chung]
People take part in the 2019 Spring Festival parade in downtown Antwerp, Belgium, on Feb. 2, 2019. A long parade was held in the Belgian city of Antwerp on Saturday as part of the 2019 Spring Festival organized by the local Chinese community and Antwerp to mark the beginning of the Chinese New Year. [Xinhua / Ye Pingfan]
A dancer performs during the lighting ceremony for Chinese Spring Festival at the Empire State Building in Manhattan, New York, the United States, on Feb. 1, 2019. The top of the landmark Empire State Building in Manhattan will shine in red, blue and yellow on the nights of next Monday and Tuesday to celebrate the Chinese New Year. [Xinhua / Wang Ying]
Egyptian artists perform at the lighting ceremony of Saladin Citadel in Cairo, Egypt, Jan. 28, 2019. Amid a joyous musical winter night, Cairo's renowned Saladin Citadel on Monday lit up in red to celebrate the Chinese Spring Festival. [Xinhua / Ahmed Gomaa]
Photo taken on Feb. 1, 2019 shows the Sydney Harbour Bridge, which is lit up in red to celebrate the Chinese Lunar New Year, in Sydney, Australia. [Xinhua / Bai Xuefei]
(Source: CGTN and Xinhua)